Peralta unravels as bats quieted by Cueto
Peralta unravels as bats quieted by Cueto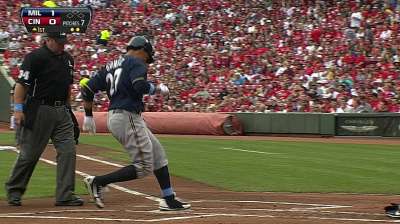 CINCINNATI -- The book so far on Brewers rookie Wily Peralta says he tends to wilt when things don't go just right. For the first two innings Sunday, the big right-hander bucked the book, working around an infield hit and a bobble by his shortstop in a scoreless first, then limiting the Reds to only one run after an error in the second.
In the third inning, the book read true. After the Reds scored one run on a comebacker that ticked off Peralta's glove, he fell behind Brewer-killer Jay Bruce, grooved a 3-and-0 fastball, and saw it deposited 469 feet away into the right-field stands, the loudest blow in the Reds' 5-1 win at Great American Ball Park.
Carlos Gomez delivered his team-leading 12th home run in the top of the first inning, but the Brewers dropped the series, 2-1, and Peralta fell to 4-8 with a 6.08 ERA -- highest among the 102 Major League pitchers with enough innings to qualify for the ERA title. He lost for the sixth time in seven decisions after allowing five runs (four earned) on seven hits and two walks in 5 1/3 innings. When Peralta exited with one out in the sixth and two runners on base (both would score) it snapped the Brewers' streak of six consecutive quality starts.
"I think sometimes he tries to overthrow," said Peralta's catcher, Jonathan Lucroy. "It's a typical thing. You see it a lot in younger pitchers. They try to do too much. Hitters, too. I'm guilty of it as well; I try to do too much, and you press."
Peralta's frustration was evident in the decisive third inning. With the teams tied at 1, Zack Cozart led off with a double and moved to third on a groundout. Peralta worked ahead of Brandon Phillips, and tried to put him away with an 0-2 slider low and away, but Phillips tapped it back to the mound, where an off-balance Peralta couldn't come up with it. Phillips was out at first base, but the go-ahead run had scored.
Peralta slammed his glove against his leg in disappointment.
"I was mad," Peralta said. "It was an easy play, an easy bouncer. I should have made it. It cost me a run."
He insisted he had mentally moved on when Bruce stepped to the plate, but Lucroy was not so sure after seeing Peralta throw three consecutive pitches up and out of the strike zone. Bruce then pounced on a Peralta fastball for his 12th home run of the season and a two-run Reds lead.
"Nothing I can do," Peralta said. "I don't want to walk him. … I know he's aggressive. I knew he was going to swing. I just tried to go down and away, and I missed pretty much -- right down the middle."
Including his winning home run in the 10th inning of Friday's series opener and his insurance shot Sunday, Bruce has more home runs (24) and RBIs (54) against the Brewers than any other opponent.
The Reds would tack on two more runs in the sixth inning after Ryan Hanigan's double knocked Peralta from the game with runners at second and third base. Reds pinch-hitter Donald Lutz grounded a two-run single up the middle against reliever Michael Gonzalez to put the finishing touch on Peralta's pitching line.
"He has the stuff to be one of the top guys in the league, I think," Lucroy said. "Ninety-six [mph] with a hard, running sinker. We just have to get him ahead in counts."
Peralta fared better in his last outing, a six-inning no-decision in Miami.
"I thought he pitched the last game. Today he came out throwing again. He couldn't get his offspeed over. He did throw some good ones at times, threw some great fastballs at times, but just [was not] consistently making pitches. Against this lineup, you can't make mistakes," said manager Ron Roenicke.
Especially against Reds starter Johnny Cueto, who returned from a second stint on the disabled list for a shoulder injury and allowed only one Brewers run on five hits in six innings. A 22-pitch sixth pushed his pitch count to 88 for the afternoon, and prompted a call to Dusty Baker's bullpen.
Cueto also contributed at the plate, executing a squeeze bunt in the second inning to tie the game at one.
"I'm confident with Johnny on almost anything," Baker said. "It was a situation where it looked like there was a threat of rain, and we tried to get the lead before the rain."
The Brewers fell to 28-40 overall and remained in last place in the National League Central. They are 11-20 against division rivals, including 7-19 against the Cardinals, Reds and Pirates.
"I just thought we didn't play a good game today," Roenicke said. "This is a really good [Reds] team, and we know we have to play really well to beat them. I thought we played really well the first two games, and we didn't play well today."
Adam McCalvy is a reporter for MLB.com. Read his blog, Brew Beat, and follow him on Twitter at @AdamMcCalvy. This story was not subject to the approval of Major League Baseball or its clubs.