Cueto quiets Crew in return from DL
Cueto quiets Crew in return from DL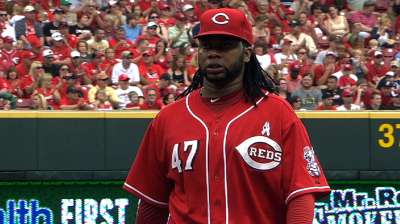 CINCINNATI -- In the first inning of the Reds' 5-1 win over the Brewers on Sunday, Johnny Cueto was thinking too much. Coming back from injury for the second time this season, he said he was trying too hard to be perfect in locating his pitches.
But mostly, he couldn't stop thinking about getting hurt again.
As a result, Cueto didn't come out as sharp as he would have liked. Three batters into the game, he gave up a solo home run to Carlos Gomez. In the next at-bat, he surrendered a double to Jonathan Lucroy before escaping the inning with a lineout.
"When I came back to the bench, [Cesar] Izturis came in and said, 'Hey listen, you're good. Do what you have to do. Just throw.'" Cueto said through translator Tomas Vera.
And that's exactly what he did. In six innings, Cueto allowed five hits and one run on the way to his fourth win of the season. After the first inning, he surrendered just a trio of singles in the final five innings, and none of those baserunners made it into scoring position.
"The good ones usually struggle a little bit early, anyway, until they settle in and see what's working on that night," manager Dusty Baker said. "I only have one worry about Johnny Cueto, and that's that his arm is OK. Other than that, we're not worried about Johnny Cueto."
On Sunday, the strained right shoulder that most recently put Cueto on the 15-day DL seemed fine. Before the game, Baker said he didn't want to extend the 27-year-old right-hander too far, and he didn't have to. Cueto threw just 88 pitches to get through his six innings of work.
"He was excellent," Baker said. "We took him about as far as we could take him. It was a good game. We were scratching for runs, but we scratched out as many as we could."
The first run Cincinnati managed actually came by way of Cueto. Trailing 1-0 in the second inning, Xavier Paul led off with a walk and advanced to third thanks to Rickie Weeks' throwing error and Ryan Hanigan's fielder's choice. Cueto then came to the plate, and despite closing his eyes after seeing a flash, brought Paul home on a squeeze bunt to even the score.
With the threat of rain looming, Baker said he called for the squeeze because he knew runs could end up being hard to come by. Also, he didn't want Cueto swinging too much in his first game back, and he wasn't worried about his ace laying it down.
"I'm confident with Johnny on almost anything," Baker said.
The Reds' scoring continued in the third, which started with a double from Zack Cozart. Two batters later, he scored from third when Brewers starter Wily Peralta couldn't handle a ground ball from Brandon Phillips.
"I was mad," Peralta said. "It was an easy play, an easy bouncer. I should have made it. It cost me a run."
Peralta struggled to recover, leaving a 3-0 fastball in the middle of plate to Jay Bruce in the next at-bat. Bruce took the pitch and hit it 469 feet to right field for his 12th home run of the season.
In the sixth, the Reds chased Peralta from the game on Hanigan's double. Donald Lutz came on as a pinch-hitter for Cueto with runners at second and third, and he hit a two-run single off reliever Michael Gonzalez to give Cincy a four-run lead.
That was more than enough, as Reds reliever Alfredo Simon came on and escaped a one-out situation with runners on the corners in the seventh, before pitching perfect frames in the eighth and ninth. Simon, who struck out six of the 11 batters he faced, registered the first three-inning save by a Reds reliever since Micah Owings in 2009.
"What a job by Simon," Baker said. "We all thought the days of the three-inning saves were dead, but he saved my bullpen today. He did a great job without a whole lot of pitches."
Thanks to the Marlins' win over the Cardinals, Cincinnati (42-28) pulled to within 2 1/2 games of first-place St. Louis in the National League Central. The Reds have won six of the last nine, all of which have come against division opponents.
The story of the day, though, was the successful return of Cincinnati's ace, who moved to 4-0 on the year.
"I think everyone at this point might not be holding their breath, but just very hopeful that [Cueto] comes out of the game feeling pretty good," Bruce said. "It looked like he did, and it looked like he had his stuff. He looked like the Johnny Cueto that we all know and love. It's very, very positive for us to have him back."
Jeremy Warnemuende is an associate reporter for MLB.com. This story was not subject to the approval of Major League Baseball or its clubs.