Kennedy strong, but homer stings bullpen
Kennedy strong, but homer stings bullpen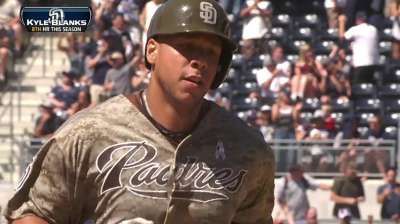 SAN DIEGO -- The D-backs couldn't wait to get out of Petco Park on Sunday, as they find themselves clinging to their lead in the National League West, a division now with four contenders.
Padres first baseman Kyle Blanks hit a three-run home run off David Hernandez to break a tie game in the eighth inning, as the Padres defeated the D-backs, 4-1, in front of 27,943 fans.
The D-backs were swept at Petco Park and their lead over the Rockies has dwindled down to just a half-game. The top four teams in the division are separated by just two games.
That team in fourth place is the surging Padres, who have won six in a row, and have done it against the NL East-leading Braves and NL West-leading D-backs to improve their record over .500 for the first time all season.
"We're going to come back and clear our heads from this and get out of this place," D-backs manager Kirk Gibson said. "They've beat a lot of people here. This is probably one of the hottest teams in the game right now."
The D-backs scored six runs in the three games against the Padres and couldn't solve Padres starter Clayton Richard, even though he had struggled since coming off the disabled list on May 27 with an intestinal virus. Richard had allowed 15 runs in 16 1/3 innings in his previous three starts.
But Richard was a different pitcher on Sunday, and although he allowed seven hits in eight innings, he only gave up one run and didn't walk a batter.
"He did a good job limiting the damage to just one run," said D-backs second baseman Willie Bloomquist, who went 2-for-4. "But we as an offense, we expect to swing better than that."
Any possible distractions from a looming suspension were not a problem for D-backs starter Ian Kennedy. When he received a 10-game suspension on Friday for his role in Tuesday's fracas with the Dodgers, Kennedy still went out and threw his bullpen as he normally would in preparation for his start, before he announced he would appeal the suspension.
"I didn't think about that, it's out of my hands and I didn't know when it was going to happen, this appeal," Kennedy said of any possible distraction. "I was kind of tired of talking about [it.] I just kind of want to put it behind me and go out and pitch."
Kennedy cruised through the first six innings on Sunday against the Padres, before an error by shortstop Cliff Pennington and a single to Mark Kotsay to start the seventh forced Kennedy out of the game. Brad Ziegler pitched the D-backs out of trouble by retiring the next three batters.
Kennedy didn't factor into the decision, but pitched well as he held the Padres to four hits and one run in six-plus innings while striking out six.
"I've been executing a lot more early in counts and my off-speeds have been a lot better," Kennedy said. "I've been getting ahead and I felt like I made one or two mistakes all day.
"They're a tough team. They foul balls off and keep long at-bats."
Kennedy also went 2-for-2 at the plate, and his single in the third inning brought home Pennington to give the D-backs a 1-0 lead.
The D-backs couldn't sustain the lead, as Will Venable hit a home run to lead off the bottom of the third to tie the game.
Arizona threatened again in the sixth inning, and got runners on first and third with one out before Paul Goldschmidt grounded into a double play to end the inning.
Then came Blanks' home run in the eighth on a hanging breaking ball. Huston Street would shut the D-backs down in a scoreless ninth to convert his 13th save of the season.
"They're a good club and they're setting the bar in this division," said Padres manager Bud Black. "They've had a good start to the season, and I don't think they're going anywhere. It was really good to see our guys match up with them and win three straight."
The D-backs have only been swept in a three-game series twice this season (April 29-May 1 vs the Giants) as they head back to Arizona on Monday to face Miami.
"We'll overcome it," Gibson said. "Don't get down, we'll overcome it. Trust me, it's a good test for us and we'll come back strong tomorrow."
Jamal Collier is an associate reporter for MLB.com. This story was not subject to the approval of Major League Baseball or its clubs.