Avila exits with wrist injury after getting two hits
Avila exits with wrist injury after getting two hits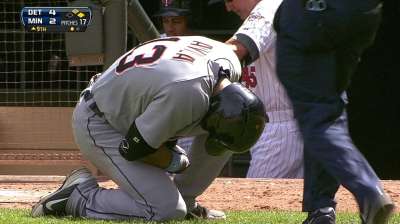 MINNEAPOLIS -- Alex Avila left Sunday's 5-2 victory over the Twins in the ninth inning on Sunday after being hit by a Brian Duensing pitch just above the left wrist. His status for Monday's game against the Orioles is unknown.
"Preliminary X-rays were negative, but we're going to have to do something when we get back, to look at it," Tigers manager Jim Leyland said. "Its up a little higher than I originally thought. We have to wait and see.
"He was in some pain. We were just afraid he couldn't catch the ball. We just felt like it was best to get him out of there, don't take any chances."
Before the injury, Avila finally made something click at the plate, ending a six-game, 0-for-17 skid. In his first appearance at the plate, Avila dropped a double down the left-field line and followed up with a two-out single in the fourth that set up a two-run Austin Jackson home run.
"He's tough as nails, and he swung the bat better today too," Leyland said. "We're thrilled with that. Now it looks like I don't know what's going to happen with this thing."
Prior to Sunday's start, Avila was batting .163 with only 26 hits on the season. Before the game, Leyland said that in an effort to get Avila out of his slump, he's been giving him days off here and there, but put him in Sunday's lineup because he felt he'd have some value in the game.
"Alex realizes he's got to do it, but you still want to be there for him," Leyland said before the game. "My heart aches for him right now. I know it's a business and all that but my heart aches for the kid right now because he is just struggling so bad … but this is the big leagues."
Kelly Erickson is an associate reporter for MLB.com. This story was not subject to the approval of Major League Baseball or its clubs.