Dunn focused on run production, not batting average
Dunn focused on run production, not batting average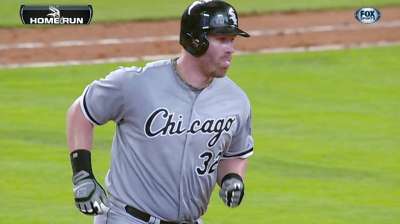 HOUSTON -- Could Adam Dunn hit above .300 for a full season or even for a couple of weeks?
White Sox fans would take above .250 from the affable slugger who entered Sunday's contest in Houston with a .182 average and has had one full month above .230 during his three-year career for the South Siders. But Dunn also understands that a higher average doesn't necessarily translate to fulfilling his middle-of-the-order responsibilities.
"What bothers me is when I'm not getting on base at .350 or .380 or close to a .400 clip. Then I'm not doing what I normally do, what I need to do," Dunn said. "And again, I don't care if I'm hitting .200 or .150 as long as my on-base percentage is .350 to .400 and I'm scoring X amount of runs and driving in X amount of runs. That's to me what matters."
If Dunn's focus falls upon getting on base, scoring runs and driving in runs, then he has hit the target so far during the month of June. Dunn has six homers, 12 RBIs, 10 runs scored and 10 walks against just 11 strikeouts. He is 9-for-21 with five homers and nine RBIs over his last six games.
That all-important on-base percentage, still sitting at a dismal .281 for the season, has been at .397 during June. Dunn's average even checks in at .277 through 47 June at-bats, but the productiveness of those hits is what's important for Dunn. He isn't focused on winning a batting title and not really concerned about his average sitting below .200.
"I could selfishly bunt three times a game and probably hit .450 or something for the year. Break the record," said Dunn with a wry smile. "Yeah, I'm getting on base, but I'm not driving in runs, not doing what I'm supposed to do.
"Obviously, it's just tough because I know I'm capable of so much more, but yet I don't want to get caught up in thinking about the wrong thing. First and foremost, I want to drive in runs. That's what I'm here for, and any way I can do that, it's the way I need to do it."
Scott Merkin is a reporter for MLB.com. Read his blog, Merk's Works, and follow him on Twitter @scottmerkin. This story was not subject to the approval of Major League Baseball or its clubs.