Astros haven't had much need for long relief lately
Astros haven't had much need for long relief lately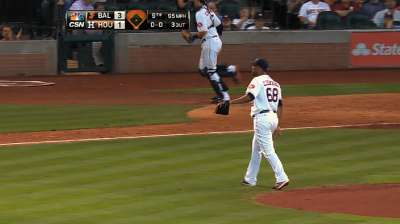 HOUSTON -- Astros manager Bo Porter has one of the best problems in baseball. He can't seem to get his bullpen enough work.
With the Astros' recent starting-pitching surge, there hasn't been much need for a long reliever.
"It's unfortunate for some of our long guys that they're not getting the number of innings they probably want," Porter said. "It's a good problem to have. I've seen it the other way around earlier on for us. I like it better this way."
Since May 15, Astros starters have a 3.04 ERA, second in the American League during that stretch entering Sunday. But their longevity may be even more impressive. In the past 31 games, only two Houston starts have lasted fewer than five innings, 22 of those outings lasting at least six innings.
That's left the bullpen arms generally relegated to at most an inning of work at a time.
Saturday night's game was a prime example, as Lucas Harrell lasted 6 2/3 innings. That left Paul Clemens with two-thirds of an inning, Wesley Wright and Hector Ambriz recorded an out each and closer Jose Veras got the save with one inning of work.
Even long-relief specialist Jose Cisnero has only gone more than two innings in two of his last six appearances.
To prevent rusty arms, Porter has turned to extended bullpen sessions to keep fresh the unit that was taxed more than any other in the Majors back in April.
"Again, it's just a side effect of your starting pitching being great," Porter said. "Your bullpen goes these extensive stretches without long work. You have to make sure they still get the work, though, so we've extensively used extended bullpen sessions. They have to pitch somewhere."
Chris Abshire is an associate reporter for MLB.com. This story was not subject to the approval of Major League Baseball or its clubs.