Farrell hopeful Napoli will rejoin lineup Tuesday
Farrell hopeful Napoli will rejoin lineup Tuesday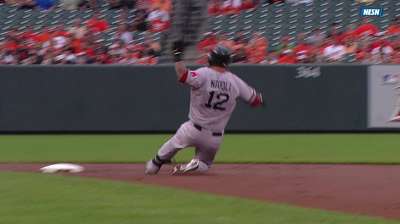 BALTIMORE -- Red Sox first baseman Mike Napoli traveled back to Boston to determine why he is experiencing dizziness and nausea, but manager John Farrell hoped the first baseman would be back with the club Tuesday.
Napoli's health issues have been characterized by the club as a "general illness." Farrell said the Sox are optimistic Napoli will not have to go on the disabled list.
Mike Carp has produced in place of Napoli and his home run Saturday against the Orioles snapped the Red Sox's 18-inning scoreless streak. Carp, who entered Sunday's game with just 103 at-bats, was tied for second on the club with Napoli, Will Middlebrooks and Jarrod Saltalamacchia with eight home runs.
"We're fortunate we have a very good bench, and it speaks to the depth of the team," Farrell said. "Mike Carp has been outstanding."
Todd Karpovich is a contributor to MLB.com. This story was not subject to the approval of Major League Baseball or its clubs.