Markakis drawing praise for stellar defensive effort
Markakis drawing praise for stellar defensive effort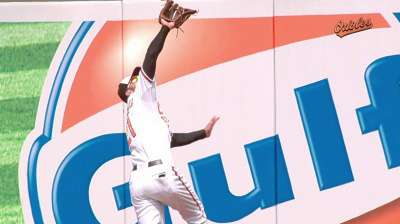 BALTIMORE -- Orioles right fielder Nick Markakis is known best for his consistency with his bat, but lately he's been making noise in the outfield as well.
In the past week, Markakis has made at least four above-average catches. Two came just moments before colliding with the wall in foul territory, one while crashing into the outfield wall, and another in a full sprawl followed by a slide on the wet grass.
"There are some plays he makes regardless of the score, that's what impresses me," manager Buck Showalter said. "There are some guys who will back off sometimes with different things. Nicky, he's very good. We're lucky to have him. That's a tough right field to play. He's very familiar with American League East places, he does it on the road, too. That's why it's hard not to run him out there. He impacts the game."
And apparently the combination of consistent hitting and above-average defense in right field has caught the attention of fans across the league. Markakis moved up a spot, to third in the latest All-Star balloting. He won a Gold Glove in 2011, but has never made an All-Star team.
"Along with work and working at it, I think it's just more experience," Markakis said of his defensive position. "Knowing the ballparks, knowing the angles that the ball is going to come off the wall, and just getting yourself in the correct position. You can cut down a lot of time by getting yourself in the right position and making the not necessarily strong throw, just quick, accurate throw," he said.
"We have team meetings and [first-base coach Wayne] Kirby does a lot of work getting us in proper position for each hitter," Markakis said. "You've got to be in the right position, know where to be on certain counts, certain pitches. It's all just part of experience, too."
Much the same as a hitter can feel locked-in at the plate, Markakis said outfielders can experience hot and cold streaks. And on this homestand, he's played a great defensive right field.
"I don't know if there's anybody in the game that knows the nuances of his home park as well as Nicky," Showalter said. "I'm amazed sometimes by the caroms that he gets in right field. Because if you go stand out there in right field, there are a lot of different places it could hit and go different directions."
Derek Wetmore is an associate reporter for MLB.com. This story was not subject to the approval of Major League Baseball or its clubs.