Every day is Father's Day in Reds' clubhouse
Every day is Father's Day in Reds' clubhouse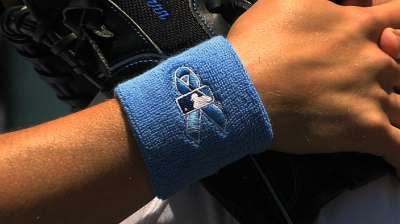 CINCINNATI -- Along with Sunday being the rubber game between the Reds and Brewers, it was also Father's Day at Great American Ball Park. In celebration of the holiday, the first 10,000 dads at the game received a free duffel bag.
The Reds themselves also enjoyed the day. Shin-Soo Choo showed off a handmade card from his son, Alan, and even though he's still on the disabled list, reliever Sean Marshall was excited to be in the clubhouse.
"Enjoying this day today. It'll be a good Father's Day," Marshall said. "It's always a good atmosphere on this day."
Several players' and coaches' sons were in and around the clubhouse on Sunday, but that's nothing new for Dusty Baker's team.
"I invite these guys to bring their kids down," Baker said. "We spend a lot of time away from our families. There are times I wish I could have gone to work with my dad. I wasn't allowed to go inside because he worked for the military, and I never did find out what he did."
Baker said it means a lot both to the fathers on the team and their kids to be able to spend time together at the park. And when it comes time for the players to focus on preparing for the game, their sons are never a distraction.
"They make up their own games," Baker said. "They don't need anybody, you just give them some water."
Jeremy Warnemuende is an associate reporter for MLB.com. This story was not subject to the approval of Major League Baseball or its clubs.