Price's rehab stint delayed due to soreness
Price's rehab stint delayed due to soreness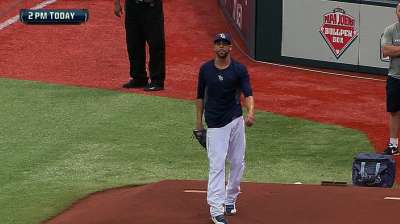 ST. PETERSBURG -- Rays ace David Price wouldn't classify the soreness he felt on Saturday as a setback, but it did at least delay the schedule that manager Joe Maddon had been discussing for his Minor League rehab assignment.
Price, out since May 16 with a left triceps strain, was expected to make his first rehab start on Tuesday. Instead, the Rays announced on Sunday morning that Price will throw another bullpen session on Tuesday, and the team will decide on Price's next step after that.
Price felt some soreness "in the right spots" after throwing a simulated game at Tropicana Field on Thursday, his first time facing batters since the injury, followed by a short bullpen session on Saturday afternoon.
"Everybody comes back with some soreness, because once you get that hitter in the box, you give that extra however-many percent that you have that you usually don't get in the bullpen," Price said. "That's the way I felt [Saturday]. Today, I feel great."
Price played catch on Sunday and will do so again on Monday before getting back in the bullpen. Maddon had been particularly optimistic about Price's recovery, saying he could only need two Minor League rehab starts before rejoining the Rays.
Though he said there was never a schedule set in stone, Price had seemingly been healing quicker than expected, as the Rays skipped a scheduled third bullpen session on Thursday and advanced to having Price throw a simulated game.
"It's not like a setback or anything. It happened," Price said. "Obviously, I didn't want to be as sore as I was, but the way that I feel today, if you would've asked me if I would've felt this good today, I would've been like there was no chance.
"My entire arm was sore yesterday, and that's just because of getting out there and facing those hitters after not doing it for a month, exerting the type of energy that I was exerting. To feel as good as I do today, it's definitely a big bright spot, so it's good."
Adam Berry is a reporter for MLB.com. Follow him on Twitter at @adamdberry. This story was not subject to the approval of Major League Baseball or its clubs.