Choo takes rare day off Sunday
Choo takes rare day off Sunday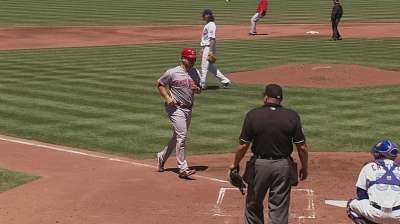 CINCINNATI -- Shin-Soo Choo has played in 67 of the Reds' 70 games this season, making Sunday's off-day a rare occasion.
"I just told him to stay in and rest some, come in late," manager Dusty Baker said of Choo. "I don't think he knows how to."
Baker was only half kidding, as Choo had to ask fellow outfielder Jay Bruce when he should arrive at Great American Ball Park before Sunday's game. The nine-year veteran said his body is just accustomed to arriving early.
Baker said Choo has been looking tired recently. Although Choo said he feels fine, he had no problems with taking the day off. Playing every game in center field this season, Choo said he's noticed the position is much different than playing in right, where he's spent the majority of his career, including 155 games last season with the Indians.
"I think I've used more energy, I think," Choo said. "I've played a lot of corner outfield, and the ball just comes to my area. But center field, you have to move on both sides. Wherever the ball goes, you have to move. You don't know if the ball's going to hit the fence and come back, so I have to move. They're a lot different."
Jeremy Warnemuende is an associate reporter for MLB.com. This story was not subject to the approval of Major League Baseball or its clubs.