Chen throws from full mound, reports no issues
Chen throws from full mound, reports no issues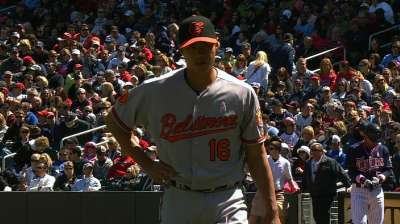 BALTIMORE -- Left-handed starter Wei-Yin Chen (strained oblique) has cleared the final hurdle necessary to rejoin the Orioles. He threw 35 pitches from a full mound Saturday in Sarasota, Fla., and woke up Sunday feeling fine.
"That was a big step [Saturday]," Orioles manager Buck Showalter said. "He came in today and felt good after throwing from a regular mound [Saturday]."
He's not ready to pitch in games yet, but the club has mapped out Chen's recovery schedule, Showalter said.
Chen, who threw off a half-mound on Thursday with no reported issues, will fly north to rejoin the team and will take his next scheduled work day with pitching coach Rick Adair.
"At some point, him and Rick will decide when he needs to go out and pitch [for an affiliate]," Showalter said of Chen, who will travel with the Orioles to Detroit and Toronto this week. "Hopefully sometime during that trip."
Chen, who left his start May 12 in Minnesota and was placed on the 15-day disabled list several days later, has not pitched for the Orioles in more than a month.
Derek Wetmore is an associate reporter for MLB.com. This story was not subject to the approval of Major League Baseball or its clubs.