Twins held to three hits in loss to Tigers
Twins held to three hits in loss to Tigers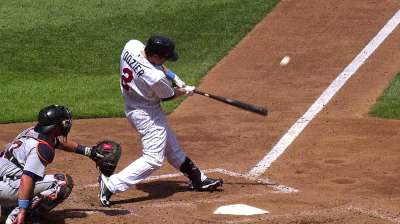 MINNEAPOLIS -- After erupting for 14 hits in Saturday's 6-3 win over the Tigers, the Twins were hoping they were finally out of their offensive slump.
But it wasn't to be, as the Twins struggled yet again on Sunday, registering just three hits for the third time in four games.
P.J. Walters gave up a pair of two-run homers and the Twins were held in check by Doug Fister in a 5-2 loss to Detroit at Target Field to drop two out of three to the American League Central-leading Tigers.
The Twins are averaging just 3.4 runs a game in June after averaging 4.5 runs in May and 4.0 in April.
"You have to find a way to get hits and score runs," Twins manager Ron Gardenhire said. "It was the third game out of the last four we had just three hits and that's not going to get it done. We thought maybe [Saturday] night would carry over but it didn't."
It didn't help that Walters ran into trouble in a hurry, giving up a leadoff single to Austin Jackson. Just three pitches later, it was 2-0 Tigers, as former Twins outfielder Torii Hunter connected on a two-run blast. It was the third homer of the year for Hunter and the 300th of his career.
"It's special," said Hunter, who hit 192 homers while with the Twins. "Just hitting my first home run in old Tigers Stadium against the Tigers with the Twins, to hit 300 against the Twins in the Tigers uniform at Target Field -- it's special. It's kind of weird, but it's special. I'm glad I got that monkey off my back."
Walters was in and out of trouble all afternoon, but worked his way out of jams until the fourth, when he gave up a two-out single to Alex Avila to bring Jackson to the plate. Jackson connected on a 3-2 slider and deposited it into the second deck in left field for a two-run homer and a 4-0 Tigers lead.
Walters again ran into trouble in the sixth, when he walked Jhonny Peralta and allowed Omar Infante to reach on a one-out bunt single. He was then lifted for reliever Anthony Swarzak, who was able to limit the damage by striking out Avila with Infante being thrown out at third trying to steal on a 3-2 pitch.
"Right out of the gate, the two-run homer put us in a hole and didn't get much better from there," said Walters, who gave up four runs on nine hits and three walks. "My location was terrible all day long. The two homers are what ended up biting us, but the location wasn't good even on the guys I got out."
But the four runs were more than enough for Tigers right-hander Doug Fister, who didn't give up a hit until the sixth inning.
The Twins hit a few balls hard, especially early, but didn't get their first hit until Brian Dozier led off the sixth with a home run to left. It was the fourth homer of the year for Dozier and his first since June 2.
Dozier picked up the second hit for the Twins as well, doubling off Fister with two outs in the eighth inning. Pedro Florimon followed with a walk, which led to the Tigers bringing in reliever Joaquin Benoit, who promptly gave up an RBI single to Clete Thomas, making it 4-2. But Joe Mauer flied out to shallow center to end the inning.
Dozier's two hits were the only ones off Fister, who tossed 7 2/3 strong innings, giving up two runs. The right-hander also struck out seven and walked two.
"When he has his two-seam working, especially in against righties, he can be good," Dozier said. "He also had a good cutter today, too. He's always a tough battle out there and they got ahead early and we couldn't catch up."
The Tigers made it 5-2 in the ninth on Hunter's RBI double, as he finished 2-for-5 with three RBIs. Benoit remained in the game and tossed a scoreless ninth for his fourth save, with Tigers manager Jim Leyland opting to use him over Jose Valverde.
"That was a huge hit because it changes the whole complexion of the game," Leyland said of Hunter's double. "So we're doing OK. Benny did a great job closing it out. I just felt his repertoire was a little better for the type of hitters he had hitting, so I decided to stay with him today."
Rhett Bollinger is a reporter for MLB.com. Read his blog, Bollinger Beat, and follow him on Twitter @RhettBollinger. This story was not subject to the approval of Major League Baseball or its clubs.