Matheny gives some regulars a rest in finale
Matheny gives some regulars a rest in finale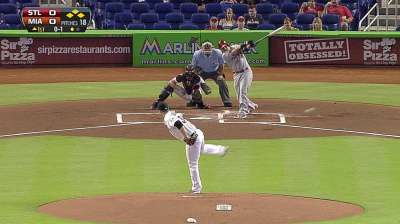 MIAMI -- The Cardinals' starting lineup Sunday was missing some familiar faces, but manager Mike Matheny did not believe it was any less competitive.
Matheny gave catcher Yadier Molina, outfielder Matt Holliday and shortstop Pete Kozma the day off. The second-year manager had several reasons for sitting his three regulars and starting Tony Cruz, Matt Adams and Daniel Descalso.
"We try to recognize when guys need a day and also try to keep something going strong," Matheny said. "You saw what Danny was able to do yesterday, getting three hits, so we want to try to keep him going, especially when Koz is fighting himself a little bit. He could use a day mentally more so than physically."
The Cardinals have played 68 games this season and Kozma has played in 66 of them, while Molina and Holliday have appeared in 64 and 63, respectively. As the season nears the midway point, Matheny is trying to give some of his regulars a day off while getting some talented reserves some more playing time.
"It's the same with Holliday and whenever we can get a chance to give Yadi a day, he has to take it," Matheny said. "We have a different looking lineup, but it still lists out pretty good. I'm excited to get these guys out there to see what they can do."
Resting a player like Holliday, who is batting .269 with 10 homers and 38 RBIs, is a tough decision for any manager. That decision gets even more difficult when you look at the slugger's career numbers against Marlins starter Ricky Nolasco.
Holliday has hit .458 with two homers and six RBIs in 24 at-bats against Nolasco. But as tempting as Holliday's past success is, Matheny thought it was best to give a hot-hitting Adams the start.
"He's got good numbers against just about everybody," Matheny said of Holliday. "You always want to get him out there, but you look at how long it's been since he gets a day and you try to keep Matt Adams sharp. You'll have to take days like today to get him some rest. It's a day game and we're traveling home. All those things lead to try to get him a day, and he could end up making an impact late in the game."
David Villavicencio is a contributor to MLB.com. This story was not subject to the approval of Major League Baseball or its clubs.