Finale in Miami extra special for Jay on Father's Day
Finale in Miami extra special for Jay on Father's Day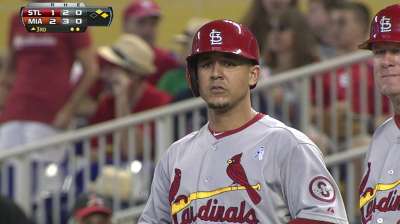 MIAMI -- Playing the Marlins in Miami is always special for Jon Jay, but this weekend's series was more than just a trip home for the Cardinals' outfielder.
A Miami native, Jay won a state championship at Christopher Columbus High School and was a standout at the University of Miami before being selected in the second round of the 2006 First-Year Player Draft by the Cardinals. The local product is proud of his roots and enjoys returning to play in his hometown, but the opportunity to be in Miami on Father's Day meant a lot to Jay.
"It's nice, especially because I am here for Father's Day," Jay said. "It's great to have my family and friends around. That's always special."
The experience means a lot to Jay's father, Justo, too.
"It's a blessing that he's here and this series coincides with Father's Day," Justo said. "We don't always get an opportunity to go to St. Louis to see him, so having him here is special for me and our whole family."
The elder Jay has been at all three games this weekend and he is proud to see his son living his dream.
"Every father dreams of seeing their kids succeed," Justo said. "He's living his dream, but not just because he is playing baseball. He's being successful on the ball field, but he is successful as a human being and he was successful as a student. We definitely feel blessed, because we know how difficult it is to make it to the big leagues. It's one in a million to get there, and we don't take it for granted that he has made it here."
Justo, who was wearing his son's Miami Hurricanes jersey on Sunday, said he felt "true joy" when he saw Jon trot out to center field. His son then hit an RBI single in the third inning.
"We're blessed to be in this position to be here supporting him," Justo said. "Joy shared is twice the joy, so when he comes to Miami, we get to share this with all of our family and friends and the joy gets multiplied."
The Jays and their friends enjoy watching Jon play in person, and the Cardinals center fielder appreciates their support.
"It's surreal to know that I am able to wear a big league uniform," Jon said. "I love to come home and play in front of people that I grew up with in the city that raised me. It's an incredible feeling."
David Villavicencio is a contributor to MLB.com. This story was not subject to the approval of Major League Baseball or its clubs.