Alvarez's three-run shot makes winner of Cole
Alvarez's three-run shot makes winner of Cole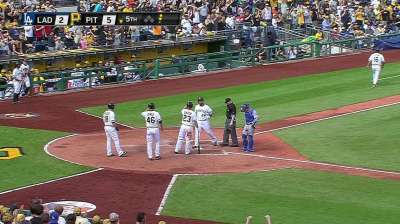 PITTSBURGH -- Gerrit Cole's No. 2 was pretty much like No. 1, which means he can deceive as well as pitch.
Cole lasted two outs shorter Sunday than he had on Tuesday in beating the Giants in his Major League debut, but otherwise wrote an almost identical line, yet in a totally different way. Good thing he again had his new best friend on his side.
Pedro Alvarez broke up Cole's duel with Zack Greinke with a go-ahead three-run homer in the fifth. Alvarez is 4-for-6 with a pair of homers and six RBIs in Cole's two starts.
There was another difference: Cole had to sweat this one out, watching Pirates relievers withstand several Dodgers threats before finally securing the 6-3 victory in front of 37,263 at PNC Park, the Pirates' third sellout of the series following a rain delay of one hour, 28 minutes.
However, the biggest contrast between Cole's starts was in his stuff. As hard to believe as it was given the results, players and coaches said the 22-year-old righty had been more guts, less goods.
"This was a day he had to go battle his backside off," Pirates manager Clint Hurdle said. "He pitched much better the first time. He had to compete today. Didn't have much breaking ball."
"I didn't have near the stuff I had Tuesday," Cole said. "A few times, I wished I had a better breaking ball or changeup, to generate a few more swings and misses. It's nice to get to fight it and have the seven guys behind you make plays like they did."
"If he'd had his curve, he could've lasted all nine. He's a special cat," said Michael McKenry, who got the late assignment to catch Cole after original starter Russell Martin had to be scratched due to lower body soreness.
Now stack those laments next to Cole's bottom line: 5 2/3 innings, seven hits and three runs allowed. And put it next to the Tuesday line: 6 1/3 innings, seven hits and two runs allowed.
"He knows how to pitch and how to get outs when he needs them," Hurdle said. "He didn't have much breaking ball or change, and he knew it. He pitched with an edge today."
The manager meant the edge in attitude, not on the scoreboard. But Cole had that, too. When Jason Grilli finished fellow relievers Justin Wilson's and Mark Melancon's work with his 25th straight save, Cole was set up to make his next start in his Orange County, Calif., neighborhood -- Friday in Anaheim against the Angels -- with a 2-0 record.
"That's gonna be pretty fun," Cole said, his eyes twinkling. "I hope I can go out there and keep doing what I've been doing and have the ball roll our way."
Cole became the first Pittsburgh pitcher to win each of his first two Major League starts since Josh Fogg in 2002, but that's only part of a much bigger story. There were only three others to do it in the last half-century, Jim Nelson (1970), Jose DeLeon (1983) and Tim Wakefield (1992).
In the fifth, the thunder that is Alvarez peeled again, as he broke a 2-2 tie with a three-run homer with two outs. Alvarez's 15th of the season, into the lawn in front of the center-field batters' eye, quickly answered an opportunity presented by Garrett Jones' single with two outs and a walk by Neil Walker.
"We had opportunities again early, and needed someone to click one, and Pedro clicked one to give us an opening," Hurdle said.
It was a special blow for Alvarez, and having it come two innings after he stranded the bases loaded with a weak groundout had little to do with it.
But Alvarez, who had celebrated Mother's Day with a hometown game-winning single in Citi Field, clocked the Father's Day homer with his parents, including dad Pedro, in the PNC Park seats.
"That meant the world to me," Alvarez said.
Alex Presley struck for a solo homer off Matt Guerrier in the sixth, neutralizing the run the Dodgers had scored in the top of the inning when Andre Ethier's second RBI single of the game chased Cole with two outs.
Cole did not issue a walk for the second straight appearance. Five days earlier, he had become the third Pirates pitcher since 1900 to go at least six innings in his big league debut without issuing a walk and, of the other two, the pitching career of George Merritt (1901) lasted only two more games and Len Gilmore (1944) never pitched again.
The Dodgers erased Cole's early 2-0 lead with a couple of low-key rallies, and naturally Yasiel Puig was involved in both.
Puig led off the second with a grounder that was smothered up the middle by shortstop Jordy Mercer, but went for a single. Puig then stole second, the first steal of his Major League career, went to third on a grounder by Ethier and scored on another grounder by Tim Federowicz.
In the fourth, Nick Punto led off with a single and, with one out, Puig chopped a ball to short that went for another hit -- his fourth infield single of his five hits in the series. Ethier's single scored Punto to tie the score at 2.
The Pirates had jumped to a 2-0 lead in the first on Jones' two-run double, cashing in game-opening singles by Presley and Mercer. Presley had been thrown out at home on Andrew McCutchen's preceding grounder, but Jones' drive to the base of the wall in right-center delivered Mercer and McCutchen.
Tom Singer is a reporter for MLB.com and writes an MLBlog Change for a Nickel. He can also be found on Twitter @Tom_Singer. This story was not subject to the approval of Major League Baseball or its clubs.