Roenicke likely to DH Ramirez in Houston
Roenicke likely to DH Ramirez in Houston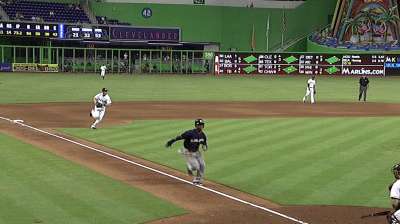 CINCINNATI -- Brewers manager Ron Roenicke hopes a few days off his feet will help get third baseman Aramis Ramirez going at the plate. Ramirez, who continues to play with a left knee at less than 100 percent, will probably serve as the designated hitter when the Brewers head to Houston this week for an Interleague Series.
"He's off today, [Monday] is the off-day, and then we'll try to DH him at least a couple of those days in Houston," Roenicke said. "Doing things like that, I'm hoping he can get closer to 100 percent. He was swinging the bat so well in spring before he hurt himself. ... But since he came back [from a month-long stint on the disabled list], he's still getting hits for us, and still getting big hits, but he's not that guy who he wants to be."
Ramirez has sprained his knee twice this year on slides into second base, once in Spring Training, sidelining him for two weeks, and again five games into the regular season.
In 22 games since a two-homer game in St. Louis on May 17, Ramirez is batting .253 with no homers and six RBIs. He had no extra-base hits in his last nine games through Saturday.
With usual three-hole hitter Ryan Braun on the disabled list with a right hand injury, cleanup man Ramirez becomes even more important to Milwaukee's offense.
"That spot, that's the guy that's going to drive in runs for us, at least the consistent runs," Roenicke said. "If we're doing it a little at the bottom [of the batting order] too, you're that much better. But you're really counting on your fourth hitter. Hopefully, we get him going."
Adam McCalvy is a reporter for MLB.com. Read his blog, Brew Beat, and follow him on Twitter at @AdamMcCalvy. This story was not subject to the approval of Major League Baseball or its clubs.