Greinke off as Dodgers drop rubber game to Bucs
Greinke off as Dodgers drop rubber game to Bucs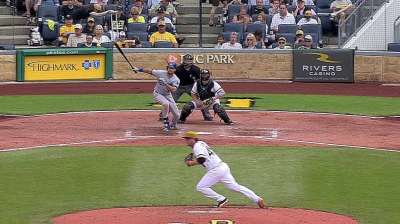 PITTSBURGH -- If Zack Greinke had thrown two pitches differently Sunday, things may have turned out a little better for him and the Dodgers.
In the first inning, Garrett Jones drove a cutter into the right-center-field gap on a full count to score a pair. Then in the fifth, with two on and two outs in a tie game, Pedro Alvarez drilled a 3-2 curveball over the wall in center field to give the Bucs a 6-3 win at PNC Park following a one-hour, 28-minute rain delay.
"Some big situations came up, and I made some bad pitches in important situations," Greinke said. "That's what happened on the Jones double and the Pedro home run. Just bad pitches at real important times."
Greinke didn't have his best stuff Sunday and labored through five innings. He retired the first two batters in the fifth, but Jones singled, then Neil Walker drew a walk. Greinke missed with a breaking ball that Alvarez jumped on and sent into the hedges in front of the center-field batters' eye.
Greinke allowed five runs, eight hits and two walks with three strikeouts. He threw 104 pitches and 30 in the first inning.
Since returning from a broken collarbone on May 15, Greinke has posted just two quality starts in seven tries, giving up at least four runs in four of them. The 2009 American League Cy Young Award winner with the Royals isn't pleased with the results, but two pitches Sunday turned what could have been a satisfactory start into a poor one.
"Today, I wasn't my sharpest," Greinke said. "But if I make pitches in those situations, you get through it."
Gerrit Cole, the Pirates' top prospect, did enough in his second career start to best Greinke. The UCLA product threw 5 2/3 innings, allowing three runs on seven hits with just one strikeout and no walks.
"I didn't have near the stuff I had Tuesday, and [backup catcher Michael McKenry] was able to recognize that and call the game accordingly," Cole said. "Always nice to have when you can interchange [catchers between Russell Martin and McKenry] and nothing really changes."
The Dodgers knocked out Cole in the sixth with an Adrian Gonzalez double, then consecutive singles by Yasiel Puig and Andre Ethier to cut the Bucs' lead to two at 5-3. But the Dodgers scored just once because Justin Wilson struck out Luis Cruz looking in relief of Cole to strand the bases loaded.
Dodgers manager Don Mattingly said he didn't want to use Hanley Ramirez in a pinch-hitting situation there because Juan Uribe wasn't available due to back tightness, and he didn't have enough options remaining on the bench in case of a defensive emergency in the infield later in the game.
"At that point, I'm pretty much out of players," Mattingly said. "So, you pretty much have to bite the bullet there."
Puig went 3-for-4 with a run and a stolen base, the first of his young career. He went 6-for-13 with four infield singles in the series. Ethier had eight hits in 20 at-bats in his last five games entering the afternoon and added another two hits and two RBIs Sunday. Ethier drove in Nick Punto with a soft line drive to left in the fourth and scored Gonzalez in the sixth with a single to right.
But unlike Puig and Ethier, the bottom of the Dodgers' order couldn't produce anything to aid the top. Tim Federowicz, Cruz and Alex Castellanos went a combined 0-for-8 with a walk.
Matt Guerrier allowed a solo home run to Pirates outfielder Alex Presley in the sixth, but pitched a perfect seventh, striking out two and four overall in two innings. Ronald Belisario, pitching for the first time since serving his one-game suspension Friday for his role in Tuesday's scrum with the D-backs, tossed a scoreless eighth.
The Dodgers had won six straight series against the Pirates before dropping Sunday's rubber match and are now 1-4-2 in their last seven series. But they haven't been swept in any of the four. A loss, a win, a loss -- a ping-pong game of sorts. And it hasn't been enough, as they fell back to 10 games below .500 Sunday.
"We got real cold for two weeks, but besides that, we just haven't had a hot streak," Greinke said, alluding to the fact that his team hasn't been losing stretches of consecutive games, but just can't string together multiple victories. "I can't tell you why. We're just not playing good enough, I guess."
Steven Petrella is an associate reporter for MLB.com. This story was not subject to the approval of Major League Baseball or its clubs.