Pestano frustrated at himself after Sunday's loss
Pestano frustrated at himself after Sunday's loss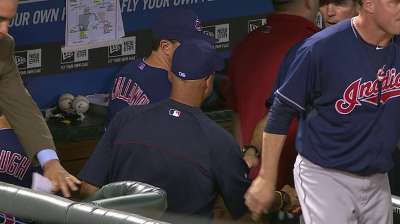 CLEVELAND -- After giving up the go-ahead home run in the ninth inning of Saturday's loss, Vinnie Pestano was pretty ticked off at himself.
He didn't blame Jason Kipnis or Nick Swisher for allowing a catchable popup to drop in foul territory, which would have ended the inning. Instead, he focused on his own mistakes, particularly the poorly-placed fastball that went over the fence.
"Lately for me, it's pretty much anything [that] can go wrong, will go wrong," Pestano said. "I've not been able to make a big pitch, get myself out of an inning. Things aren't falling for me right now. There's no other way to explain it. Getting pretty [freaking] tired of saying that I feel good, but they're just taking good at-bats off me."
Pestano is 0-for-2 in save opportunities. In 18 innings, he's put together a 4.50 ERA and given up four home runs.
Right elbow tendinitis put Pestano on the 15-day disabled list last month. When he came back, his velocity was down at first, but eventually it returned to a normal level. On Saturday, Pestano's fastball reached 92 mph.
"I don't know that there's any more work I can do," Pestano said. "I feel good when I'm out there. I'm just not getting results, plain and simple.
"You can't sit here and cry about it and whine about it and put on a pouty face, because that's not going to do anybody any good. I can't sit back and say, 'Poor me.' I got to go out there and just keep firing and find my way through it."
Mark Emery is an associate reporter for MLB.com. This story was not subject to the approval of Major League Baseball or its clubs.