Energetic Bourn excited about Father's Day
Energetic Bourn excited about Father's Day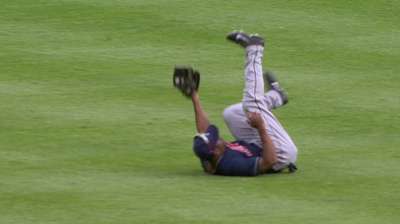 CLEVELAND -- The Father's Day well-wishes rang out in the Indians clubhouse before Sunday's game, and nobody was more enthusiastic about the holiday than Michael Bourn.
Everyone who came near Bourn was greeted with an energetic "Happy Father's Day!" The Tribe center fielder said one of the things he enjoys most about being a dad is the way his 3-year-old son runs and jumps into his arms whenever they see each other.
"As a baseball player or any athlete, you don't get to spend as much time as you would like with your kids," said Bourn, who is expecting a daughter in early July. "It's not easy being a father. You have to make a lot of sacrifices. [I] just want to make sure everybody knows to enjoy their day. It's a day that you should enjoy, I think."
The Indians celebrated Father's Day by offering fans the chance to play catch in the outfield after Sunday's afternoon game. For $15, individuals can purchase tickets that allow for 15 minutes of tossing the ball around at Progressive Field. Those interested in the program must also attend the 1:05 p.m. game against Washington.
"To a son, your father is your hero," Bourn said. "He's Superman to you. You think he can do anything. You think he can jump through the roof -- everything. That's how he views you."
Mark Emery is an associate reporter for MLB.com. This story was not subject to the approval of Major League Baseball or its clubs.