Clutch Kluber steals show with scoreless start
Clutch Kluber steals show with scoreless start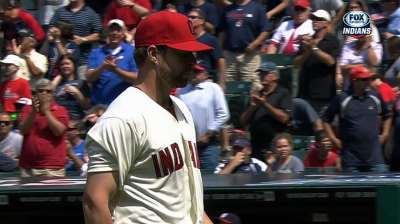 CLEVELAND -- Corey Kluber wasn't going to allow the Nationals to score any runs, no matter how many times they put a man in scoring position before making an out.
Kluber escaped three hazardous jams during his eight scoreless innings on Sunday, leading the way to a 2-0 win over Washington that gives the Indians four victories in their past five games.
"He was so good all day," Tribe manager Terry Francona said. "From pitch 1, he was aggressive with his fastball. I don't think he even threw a changeup today. Even vs. left-handers, he just was in attack mode. That was really fun to watch. I wish we could have had about five [runs] just to give a little cushion, but that was really fun to watch."
Kluber (5-4) allowed seven hits, but he did not issue a walk. He also racked up eight strikeouts, more than one of which came in a critical moment.
The right-hander entered Sunday's start coming off an outing in Texas where he limited the Rangers to one run over eight innings, which went a long way in snapping Cleveland's eight-game losing streak. On Sunday, he got his first career win at Progressive Field.
"Right in front of our eyes, we're seeing a kid mature into a really good pitcher," Francona said.
Things first got dicey for Cleveland in the fourth, but Kluber stayed calm. The Nationals had nobody out and men on the corners after John McDonald fielded a potential double-play grounder and threw the ball into right field.
Kluber responded by setting down the middle of Washington's lineup, sending Adam LaRoche, Jayson Werth and Ian Desmond back to the dugout with nothing but strikeouts to show for their plate appearances.
"I tell you what, that guy that threw for them today, the stuff that he had, that's probably top-five stuff that we'll see all year," Werth said. "He had some really good stuff, especially when he had to make pitches. He even stepped it up a little bit. He has stuff. We had our chances, obviously, but [he] outpitched us."
In the bottom of the fourth inning, Cleveland broke through against Nationals ace Stephen Strasburg. Jason Kipnis walked, stole second base and reached third on catcher Jhonatan Solano's wild throw into center field. Four pitches later, Kipnis came home on a single by Carlos Santana.
The Indians added an eighth-inning run on a sacrifice fly by Kipnis. Vinnie Pestano closed out the game in the ninth, earning his first save of the season and Cleveland's first overall save since May 23.
Strasburg (3-6), who came off the disabled list before the game, left after five innings. In that time, he allowed just the one run and one hit, while issuing four walks and striking out four.
"I faced him a few times, and he's been pretty dominant every time I faced him," Indians center fielder Michael Bourn said. "But we [were] able to scrap a run across [against] him, and Kluber was even better. They didn't score on him."
Kluber wiggled out of another quandary in the sixth, which Denard Span led off by reaching first base on an infield single before advancing to second when first baseman Mark Reynolds couldn't handle a throw from Kipnis. Anthony Rendon then singled to put runners on first and third with no outs again, as in the fourth.
And again, Kluber escaped the situation with no harm. He struck out Ryan Zimmerman on a curveball before inducing a nifty 4-6-3 double play to end the inning.
"Once we got into those jams," Kluber said, "I was just trying to take it pitch by pitch and not get ahead of myself and get too far into the inning, just worry about executing each pitch and pitch to the situation.
"I'm not out there trying to ramp it up or strike guys out in a certain situation or anything."
When the Nationals loaded the bases with nobody out in the seventh inning, you couldn't help thinking that this might finally be the moment where Kluber gives up a run. Instead, he induced a lineout to Reynolds, who doubled off Steve Lombardozzi at first for the second out. Kluber then got Roger Bernadina to ground out, ending the inning.
"We didn't help him out defensively and he pitched unbelievable," said Reynolds, referencing Cleveland's two errors. "He got out of those jams and kept us in the game. ... It was fun to play behind him today. He impressed me.
"It's fun to watch, fun to play behind [him]. He's stepping up when we need it."
In his past two starts, Kluber has given up just one run over 16 innings and lowered his ERA from 4.56 to 3.58. Despite a swarm of sticky spots, Kluber kept his opponent off the scoreboard on Sunday.
"A couple of those innings, we'd have gladly got off with one, you know, just limit damage," Francona said. "He just completely kept his composure and executed his pitches with all that traffic out there. That was very impressive."
Mark Emery is an associate reporter for MLB.com This story was not subject to the approval of Major League Baseball or its clubs.