Rays run into another nemesis in loss to KC
Rays run into another nemesis in loss to KC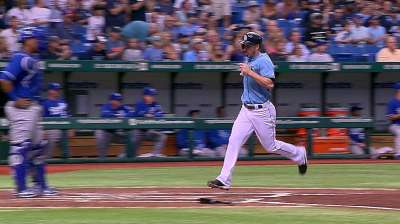 ST. PETERSBURG -- All the focus on Sunday night was squarely on Wil Myers, the former Royals prospect set to make his Major League debut with the Rays on Tuesday.
But on Sunday afternoon, another Ray-turned-Royal got the best of his former Tampa Bay teammates.
Right-hander Wade Davis, dealt to Kansas City this offseason in the trade that brought Myers to Tampa Bay, bounced back from a rough first inning and held the Rays to two runs over six innings in Kansas City's 5-3 win at Tropicana Field.
Traded along with James Shields and Elliot Johnson for Myers and three other prospects, Davis scattered five hits, walked two and struck out four against the Rays, who selected him in the 2004 First-Year Player Draft, developed him into a Major League starting pitcher then turned him into a reliever in 2012 before shipping him to the Royals.
The Rays already lost to Shields earlier this season in Kansas City, and Johnson continued his assault on the Rays' pitching staff Sunday with a double and a run. Could there be any significance to a trio of former Rays beating up on their old club?
"It just means that they were trained well," Rays manager Joe Maddon quipped.
It appeared Tampa Bay would finally come out on top against one of its former players, scoring two runs in the first inning against Davis. Everything appeared to be going according to plan, as the Rays made him throw 35 pitches in the opening frame, nearly batting around as he allowed three hits and two walks. Luke Scott capped his strong series at the plate with an RBI double to score Matt Joyce, and Desmond Jennings drove in Scott with a single to left.
But Davis was lights-out from that point on, retiring 16 of the last 18 batters he faced.
"It felt good. I just tried to keep the game where it was," Davis said. "Today was just a matter of just taking a deep breath and keeping the ball down, and getting some quick outs."
Rays right-hander Roberto Hernandez, meanwhile, couldn't build on his strong effort -- and a career-high 122 pitches -- against the Red Sox on Tuesday. Hernandez gave up four runs on nine hits over 5 2/3 innings, allowing one run in the first, another in the fifth and two in the sixth.
"Not maybe as sharp as the last couple have been, but I thought he was good enough to win," Maddon said.
The Royals tacked on another run in the eighth, when Alcides Escobar doubled off lefty reliever Cesar Ramos, advanced on a wild pitch and scored on Alex Gordon's sacrifice fly.
The Rays put together a rally in the ninth, as Jose Lobaton blasted an 0-2 pitch from Royals closer Greg Holland into the right-field stands to cut Kansas City's lead to two runs. Ben Zobrist came to the plate as the potential tying run after Matt Joyce drew a two-out walk, but went down swinging to end the game, a lackluster finale to a disappointing 1-3 series against the Royals and an even more upsetting 4-6 homestand for the Rays.
"It's no fun. We should be better than that at home," Maddon said. "We had plenty of opportunities to win more games, we did. ... Level of concern, not horrible right now. It's just that we have to be more consistent. There's no consistency to all areas of the game on a nightly basis."
Kelly Johnson attributed some of that to a lack of energy throughout the homestand. He pointed out the long, grueling games the Rays played against the Red Sox, including two close losses that hung almost solely on Tampa Bay's inability to get a hit with runners in scoring position.
"The Red Sox series was kind of a weird one. It's tough to lose a couple of those games, and we had opportunities to win them both. This series was just kind of one of those hangover series from that -- it kind of felt that way, anyway," Johnson said. "Just not a ton of energy, not a ton of life, unfortunately. There's always going to be some spells like that, but we've got to get it turned around quickly. This off-day probably is exactly what we need."
But the Rays got a surprising, if not completely unexpected, jolt shortly after Sunday's loss, when the Rays announced their intention to call up Myers before Tuesday's doubleheader at Fenway Park. Already an important road trip with Tampa Bay set to face Boston and New York, the next week will shine an even brighter spotlight on the Rays with the addition of Myers.
Then again, after the week the Rays had, it might be nice to have something to look forward to.
"I know [the pressure is] going to come from outside, it's not going to come from within. He's another one of our players. We're going to try to ease him into the whole thing," Maddon said. "I think he'll be obviously very excited about it, and there could be a little bit of a nudge for us, who knows."
Adam Berry is a reporter for MLB.com. Follow him on Twitter at @adamdberry. This story was not subject to the approval of Major League Baseball or its clubs.