Royals help Davis triumph in return vs. Rays
Royals help Davis triumph in return vs. Rays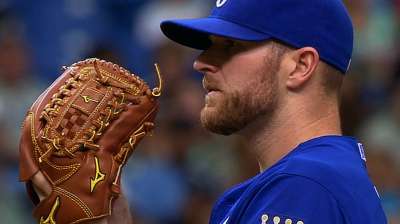 ST. PETERSBURG -- Wade Davis, at first looking unsure about being back in town, turned Sunday into a happy homecoming.
Davis survived a shaky first inning against his old Tampa Bay club and earned the victory as the Royals beat the Rays, 5-3, to disappoint a noisy crowd of 27,442 at Tropicana Field.
Royals manager Ned Yost wasn't surprised in the least.
"I just had a real good feeling if he could get back in the dugout, he'd regroup and hold 'em right now, and that's exactly what he did," Yost said.
After the Rays got just two runs in an elongated, 35-pitch first inning, Davis shut them out for the next five innings.
Davis insisted he wasn't feeling an extra emotion about facing the team that traded him to Kansas City last winter.
"No, I just felt good and just tried to keep the game right where it was," he said. "It was just a matter of taking a deep breath and keeping the ball down, and getting some quick outs."
Which he did in the next five innings. After all, Yost just had that feeling he would.
"Especially when it's a game you're coming back to an organization and your emotions, your adrenaline is running a little high," Yost said. "You get through the inning with minimal damage and a lot of time you're going to settle in."
So Kansas City won the battle of Tampa Bay, three games to one, and now moves on to Lake Erie and the Cleveland Indians, who are just a half-game ahead of the Royals for second place in the American League Central standings.
The Royals improved their June record to 11-4 after being 8-20 in May.
Two players who have been struggling at bat gave the Royals a big boost. On a day that Salvador Perez's 11-game hitting streak came to an end, Jeff Francoeur and Alcides Escobar stepped up.
Francoeur belted a home run and scored twice. Escobar had three hits with an RBI and a run scored.
"We thought going out of spring, we had a deep lineup," Francoeur said. "April, we did OK (14-10), May was just a disaster. For a little bit here, Salvy has been carrying this team offensively and some of us are starting to wake up now and help him out. And that's what we imagined -- this kind of game today."
After Davis escaped a bases-loaded jam in the first inning, keeping the Royals within range at 2-1, Francoeur tied the score with a leadoff homer in the fifth inning off Roberto Hernandez (the former Fausto Carmona).
Hernandez was driven out in the sixth inning when the Royals went on a two-out binge and scored twice. Elliot Johnson, continuing his assault on his former team, doubled high off the right-field wall. He's now 10-for-23 (.435) in six games against the Rays.
Francoeur, now looking dangerous, was intentionally walked and Escobar lined an RBI single to left.
"It was good to see Esky do that. I know Joe [Maddon, Rays manager] is a big numbers guy and I've had pretty good numbers off ... I guess, Roberto, now," Francoeur said. "And that was a huge hit by Esky."
Jake McGee, a left-hander, took over for Hernandez and gave up a run-scoring single to Alex Gordon for a 4-2 Royals lead.
Escobar doubled off reliever Cesar Ramos to open the eighth, took third on a wild pitch and scored a big insurance run on Gordon's sacrifice fly for a 5-2 lead.
That made closer Greg Holland a lot more comfortable in the ninth inning, especially after he gave up a home run to Jose Lobaton.
"For a closer, a three-run lead is like a 12-run lead. That's the way they feel," Francoeur said.
That was the first home run that Holland has surrendered this season and ended his personal scoreless streak at 12 innings. He also issued a walk, but notched three strikeouts in getting his 14th save.
Although Perez had his hitting streak ended, he made a fine defensive play in the seventh inning. Left-hander Tim Collins had just relieved Aaron Crow with one on, one out when Matt Joyce bounced a ball high off home plate. Perez pounced on the ball and fired to first baseman Eric Hosmer for the out.
"Huge play. There was just like nine ways that play could've gotten screwed up, but it didn't," Yost said. "Sal came in, called Timmy off. Timmy got out of the way, Sal barehanded it and made a great throw to Hoz. That was a huge play, because that could've been the start of something right there."
This was the first time the Royals have won a series from the Rays at Tropicana Field since Sept. 20-22, 2004, when they took two of three games.
"It was a great series," Yost said. "As long as I've been here, we've always struggled to win baseball games here. So come in here and win three out of four, it was a huge series for us."
The Royals hit .359 (14-for-39) with runners in scoring position in the four games while the Rays sputtered at .167 (4-for-24).
"They flat beat us," Maddon said. "They outplayed us for three of the four games. Kansas City is playing really well right now and they deserved to win. They're playing at a very high level."
Dick Kaegel is a reporter for MLB.com. This story was not subject to the approval of Major League Baseball or its clubs.