Marquis keeps rolling as Padres reach .500
Marquis keeps rolling as Padres reach .500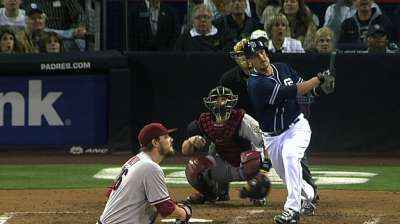 SAN DIEGO -- The long road back to .500 was punctuated by fireworks Saturday; those that occurred during the Padres' game against the D-backs and those that were on display afterward with a dazzling light show that rocked Petco Park.
Both were moments to behold and, even if briefly, cherish as the Padres put a tidy bow on an ascent from mediocre to the official break-even plateau, one that seemed far-fetched after a miserable stretch of baseball to begin the season.
"It looks good on paper, and it sends a great message to our guys," Padres manager Bud Black said.
"We fought awfully hard from where we were in April," he added.
That was never more evident than Saturday, as the Padres rallied from an early three-run deficit for a 6-4 victory over the D-backs before a crowd of 29,756.
For one night, at least, the Padres got to savor their 34-34 record -- the first time they had been .500 since April 10, 2011, when Jorge Cantu, Eric Patterson and Alberto Gonzalez were in the starting lineup.
Better still, the Padres -- who were just 5-15 on April 23 -- are three games back of the first-place D-backs (37-31) in a division that looks like it will present a wild ride to the finish, with four teams now separated by a scant three games.
Sitting in front of his locker following the game, while many of his teammates were still in the dugout as the fireworks show went on, reliever Joe Thatcher was asked the significance of the team's being .500 on June 15.
"After the hole we dug, I think it's a big deal," said Thatcher, who was around for the close calls of 2007 and 2010, when the team narrowly missed the playoffs. He, of course, was also around for the dog days of 2008 and 2011.
"We've played good baseball for 50 games. That's a long enough sample size to know it's not a fluke. We're beating good teams."
The Padres won their fifth consecutive game Saturday, all coming against either the Braves (first place in the National League East) or the D-backs, who saw a 3-0 lead against the Padres evaporate quickly during a five-run fourth inning.
The big blow of the inning, all would agree, was a three-run home run into the second deck in left field by Yasmani Grandal off D-backs pitcher Wade Miley (4-6). But that was only one piece of the big inning.
Chase Headley, who entered the game hitting .223, missed badly on two changeups from Miley before keeping his weight back on the third changeup, lining it into center field for an RBI. Two batters later, it was Logan Forsythe who had a sacrifice fly to make it 3-2. Jesus Guzman extended the inning when he pushed the single the other way, setting the stage for Grandal.
"They came at him with a lot of soft [stuff]; he stayed back and got a nice line drive up the middle," Black said. "That was a good at-bat by Chase. And Guzie got to two strikes and sort of blocked one to right field. Some good at-bats there."
The home run by Grandal was his first since Sept. 30 of last season.
"It felt great," said Grandal, who missed the first 50 games of the season while on the restricted list.
"I've been having good at-bats," he added. "It feels good to get the first one out of the way."
Funny, Padres starting pitcher Jason Marquis (9-2) probably felt the same way -- for him, about getting the first inning out of the way.
Marquis allowed a two-run home run to Miguel Montero in the first inning and then a third run in the fourth inning and appeared to be teetering.
"We had Marquis going a little bit early ... then he gets the five runs, and he's a different pitcher," D-backs manager Kirk Gibson said.
Marquis settled down, allowing the three runs on three hits in 6 2/3 innings. He walked four and is actually 6-1 in games where he has walked four or more batters.
"The first couple innings, Jason couldn't find his groove, and then he did," Black said. "You saw him dial up his fastball in good spots; the changeup came around. The first 30 pitches weren't what we've seen from Jason. It was a classic case of him getting strong as the game went on."
A key development, in the eyes of Grandal, who caught Marquis, was the ability to locate his changeup. Once that happened, Marquis was like a totally different pitcher.
"Everything fell into place," Grandal said.
The Padres added a run in the sixth inning on a home run by Kyle Blanks and held on at the end, as closer Huston Street earned his first save since May 20, though he allowed a run in the ninth inning.
Afterward, the mood in the clubhouse was subdued, enough to where one really could not tell if the Padres actually won or lost. This was just another game, yet it wasn't.
"I've been fortunate to have been on some great teams," Marquis said. "We've got some very good chemistry going on right now. Guys can see what happens when you do things the right way. We're finding ways to get it done with no excuses."
And while .500 can be a fleeting number, the significant of it is not by a long shot, Thatcher insisted.
"The last couple of years, we've been out of it by July," he said. "That makes for a long season. Right now, there's a good feeling in the clubhouse."
Corey Brock is a reporter for MLB.com. Keep track of @FollowThePadres on Twitter. This story was not subject to the approval of Major League Baseball or its clubs.