D-backs lose ground to Padres
D-backs lose ground to Padres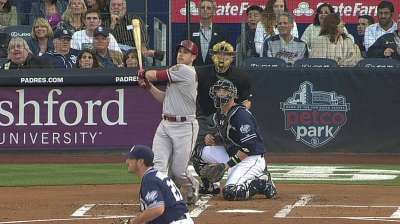 SAN DIEGO -- For much of this season, the National League West has seemed like a three-team race between the Arizona Diamondbacks, the Colorado Rockies and the San Francisco Giants. But the surging Padres are suddenly making their case.
After a 6-4 loss against San Diego on Saturday night, Arizona's division lead is dwindling, and just three games separate the D-backs from the fourth-place Padres.
San Diego (34-34) has won five in a row to get back to .500 for the first time since April 10, 2011. The D-backs (37-31), who have lost six out of nine games, have another chance against them in Sunday's series finale.
After Saturday's game, D-backs manager Kirk Gibson was not happy with the way his team had been hitting during the first two games of this series. The offense has been stifled by offspeed pitches from the Padres' starting pitchers -- beginning with Eric Stults on Friday and continuing Saturday with Jason Marquis.
"We got to play a better game tomorrow, and we got to make some adjustments," Gibson said. "People just keep doing the same thing to you, and you just act like you don't know what's going on. That's bad."
The D-backs got to Marquis early Saturday, when Miguel Montero's two-run homer gave them a 2-0 lead. They added another run in the fourth, but that was all they could muster as Marquis settled nicely after a rough start.
He overcame four walks and the home run to last 6 2/3 innings while allowing three runs on three hits. Marquis retired nine straight batters from the end of the fourth until Eric Hinske's pinch-hit single in the seventh forced him out of the game. The win improved him to 9-2 on the year and was his eighth consecutive decision.
"We never make any adjustments," Montero said. "He was throwing bad pitches, and we keep chasing it. ... It's just unfortunate for us because we should've scored more runs, no doubt about that."
The Padres' offense erupted in the fourth inning aided by an error from Didi Gregorius, only his fourth error all season. After a leadoff single by Everth Cabrera, Chris Denorfia hit a hard grounder to Gregorius, who bobbled a possible double-play ball. The next batter, Chase Headley, singled home a run, and the Padres would go on to score five unearned runs in that inning off D-backs starter Wade Miley (4-6).
Miley was particularly upset with the at-bat to Headley, who had two strikes before he left a changeup high in the strike zone.
"They [D-backs] came at [Headley] with a lot of soft [stuff]," Padres manager Bud Black said. "He stayed back and got a nice line drive up the middle. That was a good at-bat by Chase."
But the biggest blow came on a three-run home run from Yasmani Grandal, his first of the season. Left fielder Jason Kubel could only turn and watch the ball, which landed an estimated 442 feet from home plate.
"We had Marquis going a little bit early ... then he gets the five runs, and he's a different pitcher," Gibson said. "After they stung us for five runs, I didn't like our at-bats at all. We should've rebounded better than that."
Miley took the loss for the fifth time in his last seven outings, despite allowing only one earned run in six innings Saturday. It came in the sixth on a solo home run by Kyle Blanks that made it 6-3.
"When things go wrong, they go wrong," Montero said. "I thought [Miley] pitched a great game, but a couple bad pitches and he got hit. ... When things don't go your way, it's tough; it's frustrating, because he threw the ball really well."
The D-backs scored a run in the ninth off Padres closer Huston Street but no more as Street converted his 12th save of the season.
The D-backs are now 10-16 against the Padres dating back to 2012.
Jamal Collier is an associate reporter for MLB.com. This story was not subject to the approval of Major League Baseball or its clubs.