Plouffe leads Twins past Tigers on his birthday
Plouffe leads Twins past Tigers on his birthday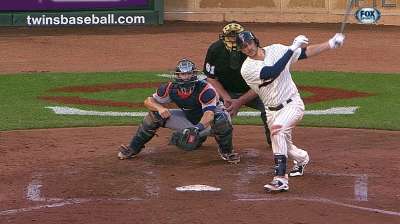 MINNEAPOLIS -- It was quite the return and birthday celebration for Trevor Plouffe on Saturday night.
It turns out the Twins just needed him to kick-start their offense, as he homered, doubled and drove home three runs in his return to the lineup to help lead Minnesota to a 6-3 win over the Tigers at Target Field.
Plouffe, playing on his 27th birthday and in his first game since May 21 after two stints on the disabled list because of a concussion and a strained left calf, helped rejuvenate an offense that managed a combined six hits in back-to-back losses on Thursday and Friday. The Twins also received a strong pitching performance from Samuel Deduno.
"It's just good to be back," Plouffe said. "The first thing was winning -- we wanted to win this game and I wanted to contribute any way I could. To be able to come up offensively was good for us, and Sammy pitched his butt off again. So when you mix those things together, it's a good night."
Plouffe got the Twins on the board in the fourth on a two-run blast off Tigers right-hander Anibal Sanchez after Justin Morneau led off the inning with a single. It was Plouffe's fifth homer of the year and his first since May 5.
"His swing looked good and you saw that he backspinned the ball pretty good," Twins manager Ron Gardenhire said. "He was on the ball."
Plouffe also helped spark a three-run rally in the sixth, when he led off the inning with a double to left field off reliever Darin Downs. Chris Parmelee followed with a bloop single before Brian Dozier drove home Plouffe with a single to left to give the Twins the lead.
Pedro Florimon then bunted both runners over before Clete Thomas struck out to bring Joe Mauer to the plate. The Tigers opted to pitch to Mauer with first base open and two outs and the decision backfired, as Mauer singled to left to bring home Parmelee and Dozier.
"We had some big hits," Gardenhire said. "It was a big hit there by Joe Mauer to open it up a little bit."
Plouffe wasn't done, however, as he laced an RBI single off the wall in left field against reliever Evan Reed in the seventh. But Plouffe was thrown out by left fielder Andy Dirks while trying to stretch the hit into a double and ended just a triple short of the cycle.
It was enough offense for Deduno, who tossed seven strong innings, giving up two runs on seven hits and a season-low one walk.
"Everything was working," Deduno said. "The fastball, the changeup, everything was working. The key was getting ahead tonight."
He outpitched Sanchez, who lasted just 3 2/3 innings in his first meeting against the Twins since taking a no-hitter into the ninth against them on May 24. But Sanchez missed his previous start because of shoulder stiffness and the Tigers wanted to be cautious with the right-hander.
"I wanted to be careful with Sanchez," Tigers manager Jim Leyland said. "The good news is he's healthy. He felt fine, probably a little sluggish just trying to get his rhythm back and mechanics back. He had been idle for a while."
The Tigers scored both runs against Deduno in the fourth on a two-run broken-bat single from Jhonny Peralta to score Miguel Cabrera and Prince Fielder.
But Deduno was helped by his defense, as Don Kelly was thrown out at home in the third inning while trying to advance from third on a grounder to Florimon at shortstop from Alex Avila. Detroit had another runner thrown out at home in the sixth, as Fielder doubled and attempted to score on a two-out single from Kelly but was thrown out at the plate on a strong throw from Parmelee in right field.
"That was huge," Gardenhire said. "As soon as the ball was hit, Parmelee was cheating toward that hole, and we were in the dugout yelling for him to throw him out. Fortunately for us he got rid of it quick and it was really accurate."
The Tigers scored in the eighth against reliever Jared Burton on a two-base throwing error from Florimon, but Twins closer Glen Perkins tossed a scoreless ninth to pick up his 16th save.
"It was a good win for us," said Gardenhire. "We have a chance to win tomorrow to take two out of three against the Detroit Tigers, which is a big thing."
Rhett Bollinger is a reporter for MLB.com. Read his blog, Bollinger Beat, and follow him on Twitter @RhettBollinger. This story was not subject to the approval of Major League Baseball or its clubs.