Teixeira heads to NY early to have wrist evaluated
Teixeira heads to NY early to have wrist evaluated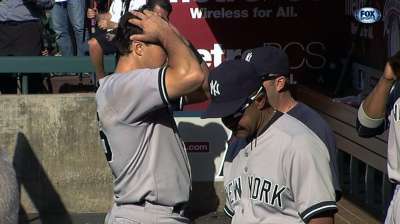 ANAHEIM -- Yankees first baseman Mark Teixeria was removed from Saturday's game against the Angels in the bottom of the fourth inning because of an aggravated right wrist. He will miss the series finale so he can fly back to New York early to be evaluated by team physician Christopher Ahmad on Sunday.
"I just think he doesn't feel that he has the whip that he normally has hitting left-handed," manager Joe Girardi said. "He just came to us after the second at-bat and said he feels like there is not a lot of strength there."
Teixeira missed the first 53 games of the season with a wrist injury and Girardi said he has been concerned since Teixeira's return because of the severity of the original injury.
"I've always said that the wrist is tricky," Girardi said. "People have wrist problems, people have back problems. I'm concerned."
The Yankees are off Monday after wrapping up their series with the Angels on Sunday. They open a nine-game homestand against the Dodgers on Tuesday.
David Adams took over at first base for Teixeria, who is hitless in his last 12 at-bats.
William Boor is an associate reporter for MLB.com. This story was not subject to the approval of Major League Baseball or its clubs.