Injured Tulo leads; CarGo needs All-Star help
Injured Tulo leads; CarGo needs All-Star help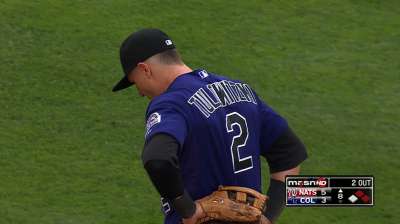 DENVER -- Even though he's on the disabled list, Rockies shortstop Troy Tulowitzki can still be elected as an All-Star starter. Colorado outfielder Carlos Gonzalez is also tearing it up at the plate and in the ballot box.
Tulowitzki, who suffered a rib injury on Thursday that will keep him out four to six weeks, is leading the All-Star Game balloting at his position by more than 1 million votes. Gonzalez started much slower, but he's making his move.
In the first release of the All-Star Game balloting, Gonzalez, who is near the top of the National League rankings in most offensive categories and has a catalog of highlight-reel defensive plays, was 10th among outfielders. In the latest results released on Sunday, CarGo is now fifth.
The top three outfielders will be starters for the NL in the 2013 All-Star Game, which will be played at Citi Field on Tuesday, July 16. Come to MLB.com for extensive online coverage of the All-Star Week festivities. Gonzalez, with 1,508,355 votes, is giving chase to the Brewers' Ryan Braun, who is fourth at 1,645,094 votes and also on the DL, and the Nationals' Bryce Harper, third at 1,981,030.
Outfielders Michael Cuddyer and Dexter Fowler, both having strong years for a surprising Rockies team, are not among the top 15 outfielders.
Tulowitzki, who, like Gonzalez, is at or near the top of the NL in several offensive categories, is at 2,443,772 votes, with Giants shortstop Brandon Crawford at second with 1,293,476.
Fans can cast their votes for starters at MLB.com and all 30 club sites -- online or via a mobile device -- using the 2013 All-Star Game MLB.com Ballot until Thursday, July 4, at 9:59 p.m. MT.
Fans may submit 25 online ballots during the voting period but can also earn a one-time bonus of 10 additional online ballots. To access these additional online ballots, fans must be logged into an MLB.com account when submitting any online ballot. To obtain an MLB.com account, visit www.mlb.com and register in accordance with the enrollment instructions for a free MLB.com account.
Fans can also once again participate in the Home Run Derby Fan Poll. Fans will have the opportunity to select three players in each league whom they would most like to see participate in the Home Run Derby. The 2013 Home Run Derby -- part of Gatorade All-Star Workout Day -- will be broadcast live on ESPN, ESPN HD, ESPN Deportes and ESPN Radio in the United States beginning at 6 p.m. MT on Monday, July 15.
Though originally scheduled for July 7, the 2013 rosters will now be unveiled Saturday, July 6, at 6:30 p.m. ET on the 2013 MLB All-Star Game Selection Show presented by Taco Bell. The show will be televised nationally on FOX.
From Saturday, July 6 to Thursday, July 11, be sure to return to MLB.com and cast your 2013 All-Star Game Final Vote Sponsored by freecreditscore.com for the final player for each League's All-Star roster.
And the voting doesn't end there. The final phase of All-Star Game voting will again have fans participating in the official voting for the Ted Williams All-Star Game Most Valuable Player Award presented by Chevrolet. During the Midsummer Classic, fans will vote exclusively online at MLB.com via the 2013 All-Star Game MLB.com MVP Vote, and their voice will represent 20 percent of the official vote determining the recipient of the Arch Ward Trophy.
The 84th All-Star Game will be televised nationally by FOX Sports, in Canada by Rogers Sportsnet and RDS, and worldwide by partners in more than 200 countries via MLB International's independent feed. ESPN Radio and ESPN Radio Deportes will provide national radio coverage of the All-Star Game. MLB Network and SiriusXM also will also provide comprehensive All-Star Week coverage. For more information, please visit allstargame.com.
NATIONAL LEAGUE ALL-STAR VOTING
(as of June 16)
FIRST BASE
Joey Votto, Reds 2,047,945
Paul Goldschmidt, D-backs 1,524,517
Allen Craig, Cardinals 1,191,229
Brandon Belt, Giants 997,066
Freddie Freeman, Braves 924,937
SECOND BASE
Brandon Phillips, Reds 2,021,277
Marco Scutaro, Giants 1,717,875
Matt Carpenter, Cardinals 1,508,314
Chase Utley, Phillies 982,966
Daniel Murphy, Mets 786,414
SHORTSTOP
Troy Tulowitzki, Rockies 2,443,772
Brandon Crawford, Giants 1,293,476
Jean Segura, Brewers 1,188,317
Pete Kozma, Cardinals 905,976
Andrelton Simmons, Braves 771,665
THIRD BASE
Pablo Sandoval, Giants 2,180,147
David Wright, Mets 2,053,744
David Freese, Cardinals 1,152,038
Chris Johnson, Braves 829,420
Ryan Zimmerman, Nationals 686,905
CATCHER
Buster Posey, Giants 2,606,434
Yadier Molina, Cardinals 2,543,588
John Buck, Mets 866,471
Jonathan Lucroy, Brewers 630,902
Brian McCann, Braves 627,056
OUTFIELD
Carlos Beltran, Cardinals 2,385,240
Justin Upton, Braves 2,054,225
Bryce Harper, Nationals 1,981,030
Ryan Braun, Brewers 1,645,094
Carlos Gonzalez, Rockies 1,508,355
Matt Holliday, Cardinals 1,330,471
Andrew McCutchen, Pirates 1,319,419
Hunter Pence, Giants 1,286,163
Shin-Soo Choo, Reds 1,274,755
Angel Pagan, Giants 1,131,176
Carlos Gomez, Brewers 1,027,684
Gregor Blanco, Giants 934,174
Jon Jay, Cardinals 884,323
Domonic Brown, Phillies 837,748
B.J. Upton, Braves 733,744
Thomas Harding is a reporter for MLB.com. Read his blog, Hardball in the Rockies, and follow him on Twitter @harding_at_mlb. This story was not subject to the approval of Major League Baseball or its clubs.