B.J.'s two homers, Freeman's walk-off hit lift Braves
B.J.'s two homers, Freeman's walk-off hit lift Braves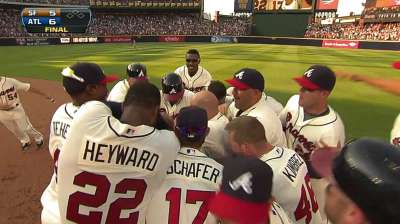 ATLANTA -- Braves manager Fredi Gonzalez felt like it had been two weeks since the Braves had won a game. But with the offense back to its late-inning heroics courtesy of productive at-bats throughout the lineup, Saturday's dramatic comeback victory to snap a four-game losing streak was straight out of the optimistic script of way back in early April.
B.J. Upton went deep for his seventh and eighth home runs of the year, and Freddie Freeman's walk-off single with the bases loaded capped a two-run, ninth-inning rally to help Atlanta draw even in its weekend series vs. the Giants with a 6-5 win Saturday afternoon at Turner Field.
Craig Kimbrel pitched a scoreless ninth to set up the Atlanta comeback, which began when pinch-hitter Evan Gattis worked a five-pitch walk with one out. The Braves built off that initial baserunner, loading the bases against Giants closer Sergio Romo before Justin Upton stepped in.
Upton worked the count full before taking a slider just off the inside edge for a walk that brought pinch-runner Reed Johnson home to tie the game to the delight of a raucous crowd. After Upton struck out looking to end the game on two occasions in the Braves' series at San Diego earlier this week, it was Romo's turn to be visibly frustrated that a close call did not go his way.
"We were still in the game," Romo said. "Although they tied the game, we had an opportunity to keep playing. You have to give them credit. They had good pieces of hitting on their part."
That walk set up Freeman's line-drive single into shallow right field to bring home the game-winning run. It was Freeman's second walk-off hit of the season and the fifth time the Braves have won the game in their final at-bat at home this year.
"Even in San Diego, we came back and made it a game in the ninth inning a couple of times, and that's just our team," Freeman said. "We have a lot of guys who can do it, one through eight, and we're just showing it."
The Braves capitalized on a busy afternoon from B.J. Upton, who broke out of an 0-for-8 slump with a towering solo home run in the second inning and struck again in the sixth for the sixth multi-homer game of his career. His first home run landed over halfway up the left-field stands, and his second chased Giants starter Chad Gaudin, who kept the rest of the Braves' order largely in check over five innings.
"His hard work is paying off, and sometimes you have to be a little patient, but good for him," Gonzalez said. "He got two big home runs there."
When the Braves' offense was in a rhythm in the early weeks of 2013, Upton took plenty of heat for the slow start he turned in. On Saturday, with the rest of the offense foundering once again, Upton delivered with a pair of home runs that sparked the offense and helped keep the possibility of a late-inning Braves rally within reach.
"Starting to feel a lot better," Upton said. "It's definitely coming along. I feel like I got everything covered up there, so hopefully I can keep it where it's at."
After posting the lowest batting average in the Majors among qualifying hitters for a long stretch of May, Upton took another step toward the production the Braves expected when they signed him to a five-year deal last November. Upton is now hitting 10-for-40 (.250) in June, with four of his eight home runs this season coming in the first 15 days of this month.
Atlanta starter Mike Minor was spared from his third loss of the season after finishing with seven strikeouts against seven hits and four earned runs, the second-highest total he has allowed this year. Andres Torres and Tony Abreu's back-to-back RBI doubles with two outs in the third inning gave the Giants their first lead, and after an intentional walk issued to Buster Posey, Hunter Pence dropped a single into shallow right field that scored Abreu from third. It was the first three-run inning Minor has been tagged with since his loss to the Tigers on April 28.
"I thought I made decent pitches, and if they were hit a little bit harder, a little bit softer, it could've went the other way," Minor said. "But they got guys on and they made contact, and they made hard contact when they needed to drive guys in, and that's what killed me."
The Braves were ultimately rewarded for making contact with their two-run ninth inning, securing the team's 20th come-from-behind win this season. After Gattis' walk, Andrelton Simmons reached base on a dribbler that evaded Joaquin Arias and Brandon Crawford on the left side of the infield, and then Jason Heyward found a hole in shallow left field for his second hit of the day.
"You felt pretty good with Justin at the plate and Freeman behind him that we were going to get it done," Gonzalez said. "Gattis drew a big base on balls there. It seems harmless at the time, and then they make an error, and then we put a couple of really, really good at-bats together after that."
Eric Single is a reporter for MLB.com. This story was not subject to the approval of Major League Baseball or its clubs.