Two walks, error burn Romo in Giants' loss to Braves
Two walks, error burn Romo in Giants' loss to Braves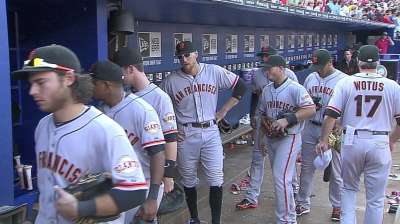 ATLANTA -- For the Giants, Saturday's 6-5 loss to the Atlanta Braves was akin to a freak occurrence, like asteroids colliding or being hit by lightning twice.
Sergio Romo almost never walks batters. But while trying to preserve a 5-4, ninth-inning lead, Romo issued two free passes to set up Freddie Freeman's tiebreaking single that decided the outcome. The previous batter, Justin Upton, walked on a close 3-2 pitch with the bases loaded, forcing in a run.
Romo, who appeared to bark briefly at umpire Jerry Meals, was philosophical afterward.
"You can only control certain things," Romo said. "I went out there and did my best. It didn't go so well."
The Giants had played sparkling defense all afternoon at Turner Field. But third baseman Joaquin Arias' ninth-inning error, his second of the year, also helped the Braves prevail.
"What hurt us was the little dribbler that got through," Giants manager Bruce Bochy said, referring to Andrelton Simmons' grounder that scooted under Arias' glove. "First the walk and then the dribbler set up their rally."
A victory would have improved the Giants' record on this three-city, nine-game trip to 5-3 entering Sunday's finale here. But instead of guaranteeing themselves success, they left their clubhouse shouldering vague discontent.
Romo, who blew his third save opportunity in 19 chances, usually benefits from matters working in his favor. Much of that starts with his control. Likely the most precise closer ever to pitch for the Giants, Romo had walked three batters in 25 innings entering the game. Recall that in 2011, Romo walked just five opponents in 48 innings spanning 65 appearances.
So when Romo walked Evan Gattis with one out in the ninth, it appeared to be a wise move. The rookie has been a ridiculously effective pinch-hitter, going 6-for-8 with four home runs and 11 RBIs off the bench.
"Stick to my strengths," Romo said of his approach to Gattis. "There was no change. I fell behind and he was able to work the count and get on base."
Simmons then hit the fateful grounder that eluded Arias and trickled past shortstop Brandon Crawford. Arias affirmed later that he wasn't rushing and hoped simply to record one out on the play.
Jason Heyward's single to left field loaded the bases and sent Upton to the plate. The count went full before Romo threw one of his patented sliders. Television replays indicated that the delivery might have shaved the strike zone. Yet Upton didn't consider the pitch good enough to swing at and neither did Meals, who ruled it ball four. Pinch-runner Reed Johnson scored the tying run.
Romo briefly had words with Meals.
"He's a competitor," Bochy said. "I haven't looked at it [on replay], but he's frustrated with a couple of pitches there. You're in that part of the game, sure, you want [the pitches]."
Asked for his opinion of Meals' call, Romo replied, "It really doesn't matter what I think. The outcome of the game is settled."
Moreover, Romo insisted that walking Upton didn't rattle him.
"I was fine," Romo said. "I had the focus. We were still in the game. Although they tied the game, we had an opportunity to keep playing."
That chance vanished as Freeman laced a 1-1 pitch into right field to score Simmons with the game-winning run.
Earlier, Andres Torres and Tony Abreu turned in big efforts for the Giants. They each scored twice and drove in a run to offset B.J. Upton's offensive outburst. Batting .159 entering the game, Upton homered twice, drove in three runs and scored another to torment Giants starter Chad Gaudin, who lasted five-plus innings.
Braves starter Mike Minor was 5-0 with a 1.76 ERA in his previous seven starts. That might as well have been ancient history as the Giants accumulated five runs (four earned) and seven hits off him in six innings.
"I felt like I had a lot of guys 0-2 and 1-2 and I couldn't put them away," Minor said. "They just seem like they always put some kind of wood on the ball that does something for them, whether it's a slow roller for a base hit or a couple down the line. They had some hard-hit balls too, though."
One of them was Buster Posey's fifth-inning double, his 20th of the season and fourth in two days. His drive struck the center-field wall a couple of feet below the yellow home run stripe. Bochy pointed out that had Posey's clout cleared the barrier for a homer, the Giants would have had another run, which might have made a difference in the outcome.
"If it's a one-run game, anything can happen," Bochy said. "... There's a fine line between winning and losing."
Chris Haft is a reporter for MLB.com. This story was not subject to the approval of Major League Baseball or its clubs.