Pair of RBI knocks in 11th lift Dodgers to win
Pair of RBI knocks in 11th lift Dodgers to win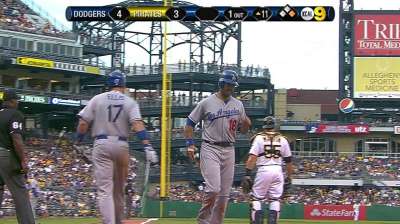 PITTSBURGH -- Just a few days after giving up the role any reliever hates to lose, Brandon League found himself in familiar territory.
League shut the door on the Pirates in the 11th after Juan Uribe drove in Andre Ethier with an RBI single and Nick Punto followed with a run-scoring double in the top half of that frame, giving the Dodgers a 5-3 win at a sold-out PNC Park.
League's 5.76 ERA as the Dodgers' closer just wasn't cutting it anymore, and Kenley Jansen was riding an 11 2/3-innings scoreless streak into Saturday. Dodgers manager Don Mattingly made Jansen his closer earlier in the week.
But Jansen missed on one pitch Saturday, and it cost him his first blown save since assuming the ninth-inning role. Then League got a save opportunity of his own two innings later after his club took the lead back, and capitalized.
"Any win is a big win right now, so we'll take it," said Dodgers starter Clayton Kershaw, whose team is now 29-38. "We fought back."
But before they could fight back, the bullpen coughed up the lead for its ace. In the bottom of the ninth, Pirates right fielder Travis Snider drilled Jansen's 2-2 fastball over the wall in right-center field with one out to tie the game. Neil Walker drove in Alex Presley in the eighth to cut the lead to one.
Ethier, who went 3-for-5 with an RBI and a run scored, doubled off Vin Mazzaro to start the 11th and moved to third on a Mark Ellis sacrifice bunt. Uribe singled home Ethier before Punto's pinch-hit double.
"We just had to refocus. We don't need a big home run to get us back in it," Ethier said. "Just get a guy on base, bunt him over, and play baseball and put the pressure back on them."
The Pirates had a chance to end it in the 10th, but pinch-hitter Michael McKenry popped out to right with the bases loaded on the first pitch he saw from Peter Moylan, who improved to 1-0 with the win.
The Pirates threatened again in the 11th, but Andrew McCutchen grounded out with runners on second and third, then Gaby Sanchez flew out to left and League avoided blowing his third save in his last five tries. The righty said he he's been making sure "everything is on point" in the last week instead of making mechanical changes.
The Dodgers struggled to muster any offense against Brandon Cumpton in the early innings. The righty, making his Major League debut, struck out five of the first six batters he faced, but none of the next 17. He allowed three runs on seven hits in five-plus innings.
Kershaw labored through the first, but settled in after that. He tossed seven innings, allowing three hits and one run while walking three and striking out eight on 114 pitches. He exited in line for the win, but took a no-decision and remained 5-4 on the season despite owning the National League's best ERA.
He did get some defensive help in the sixth when Skip Schumaker robbed Russell Martin of a three-run homer by snagging a ball that would have cleared the short fence in left field.
"You control what you can control. It's not easy to do sometimes," Kershaw said of his 5-4 mark. "But you control what you can control and that's what I'm trying to do."
The Dodgers finally broke through off Cumpton with the game tied 1-1. Adrian Gonzalez doubled to lead off the sixth, then Hanley Ramirez singled. Ethier brought home Gonzalez with a single and no outs, ending Cumpton's night.
"We got Cumpton and [Clayton] Kershaw, and our boy matched him through five," Pirates manager Clint Hurdle said. "He gave us everything he had, a really professional job and I'm very proud of him. He threw strikes, mixed speeds, kept the ball down, hit the glove extremely well."
Bryan Morris gave up a sacrifice fly, but worked his way out of the sixth after surrendering a run, which was charged to Cumpton. Morris, the Dodgers' first-round pick in 2006, also pitched a scoreless seventh to keep the Los Angeles lead at 3-1.
The win gave the Dodgers a 7-10 record this month, and Kershaw didn't beat around the bush in regards to the importance of the next few weeks. The team needs to start winning, or soon they won't have much to play for.
"It's pretty much the easiest thing to say," Kershaw said. "We're going to have to start putting some streaks together, and that's all there is to it."
Steven Petrella is an associate reporter for MLB.com. This story was not subject to the approval of Major League Baseball or its clubs.