Comeback bid falls short in 11th in Cumpton's debut
Comeback bid falls short in 11th in Cumpton's debut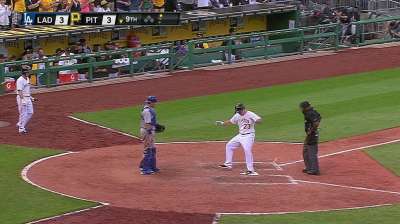 PITTSBURGH -- When Saturday's match at PNC Park was over after the 11th round, it was difficult for either Brandon Cumpton or his manager, Clint Hurdle, to feel like a loser.
Yes, the Dodgers got in the final licks for a 5-3 victory in 11 innings. But at the beginning, it was an unheralded guy making his Major League debut against a recent Cy Young Award winner. And at the end, the Bucs counter-punched twice to get the game to extra innings.
"We got Cumpton and [Clayton] Kershaw, and our boy matched him through five," Hurdle said. "He gave us everything he had, a really professional job and I'm very proud of him."
"It was everything I imagined and more," said Cumpton. "I had everything running through my mind, and just tried to take it all in and enjoy the moment."
Cumpton had several moments, and they continued even long after he'd left the game, as he watched his new teammates take him off the hook on Neil Walker's RBI single in the eighth and Travis Snider's game-tying homer with one out in the ninth.
Juan Uribe's RBI single and a run-scoring double by Nick Punto off Vin Mazzaro in the 11th inning punctuated the Dodgers' retort and spoiled the comeback -- which the Bucs had hoped to culminate the previous inning.
Walker was in the middle of it again, this time with a two-out double into the right-field corner off right-hander Peter Moylan after Martin had walked.
Although Martin naturally was off and running on contact with two outs, third-base coach Nick Leyva had to red-light him when right-fielder Yasiel Puig cut off the ball before it could reach the wall.
"Tall, thick grass," Walker lamented. "Otherwise, if that ball gets through, pretty good chance for Russ to score."
To Hurdle -- who thought that drive might have also been slowed down a bit when it flicked off the top of first baseman Adrian Gonzalez's glove -- it turned into just another in a series of missed opportunities as Pedro Alvarez was walked intentionally to load the bases and pinch-hitter Michael McKenry flied out on the first pitch.
"When you've got a guy like [Kershaw] on the mound, you've got to find some two-out RBIs," Hurdle said. "In four different innings, we needed to do some damage. We ramped up his pitch count, got men on base -- we did everything but score."
The Pirates went 1-for-13 with men in scoring position, stranding a total of a baker's dozen of baserunners.
As Cumpton emerged from the shadows into blinding brilliance, people suddenly got to know him.
Unfortunately, eventually so did the Dodgers, who began to hit him harder Cumpton's second time through the lineup, and finished him off midway through their third look.
"I wanted to at least get through the sixth, and turn it over to the bullpen," Cumpton said. "I ran into a couple of counts where I fell behind, which didn't help me out, and they were sitting more on the fastball. I left a couple of bad pitches up, and they put them into play."
Although not a winner in the box score, the previously little-known Cumpton may have been that on the mound, turning what could have been a one-shot audition into at least a call-back.
Cumpton held the Dodgers hitless for three innings, then worked his way around the first two hits he allowed in the fourth.
Two more hits in the fifth, including Skip Schumaker's RBI single, made it 1-1, and the Dodgers chased Cumpton in the sixth with three straight hits before he could get an out. Gonzalez doubled, stopped at third on Hanley Ramirez's single and came in on another single by Andre Ethier.
The runners took an extra base when left fielder Alex Presley overran Ethier's hit for an error -- and Cumpton took a seat on the bench, replaced by Bryan Morris. A subsequent run on Mark Ellis' sacrifice fly also went on Cumpton's record.
"He had good stuff and was hitting his spot," Ethier said. "He did a good job of keeping the ball down. When he did throw pitches for contact, they weren't balls right there that we could take good hacks at."
So, an overall impressive debut. In five-plus innings, Cumpton was charged with seven hits and three runs, walking one and striking out five.
Kershaw went seven innings, allowing three hits and run, with three walks and eight strikeouts.
A pretty good line for Kershaw -- especially considering he nearly gave up a three-run homer to Russell Martin in the sixth. Martin's wallop to left-center was caught above the 383-foot sign by Schumaker, who needed only a modest leap to get his glove over the eight-foot wall.
There was no forewarning, nor explanation, for what the Pirates and their fans saw at the very beginning from the team's ninth-round selection in the 2010 First-Year Player Draft. Cumpton, who had four lengthy starts in the Minors this season with fewer than three strikeouts, whiffed the side in the first, and that side included Puig and Gonzalez.
"I was just trying to throw early strikes with everything I had, and they were aggressive," Cumpton said. "Swings-and-misses helped me out a little bit."
Cumpton fanned two more in the second, then no more, relying on his defense, occasionally in spectacular fashion, to protect the 1-0 lead he had been given in the first.
The Bucs seemed primed for a big first inning but, ultimately, were fortunate to get even one run out of it. Presley's leadoff double -- he slapped a ball right down the left-field line -- and one-out walks of Andrew McCutchen and Gaby Sanchez loaded the bases. Martin's perfect double-play grounder to Ramirez, rather than end the inning, turned into a run on the shortstop's wild throw past first base.
Tom Singer is a reporter for MLB.com and writes an MLBlog Change for a Nickel. He can also be found on Twitter @Tom_Singer. This story was not subject to the approval of Major League Baseball or its clubs.