Yanks dealt fifth straight loss in Anaheim
Yanks dealt fifth straight loss in Anaheim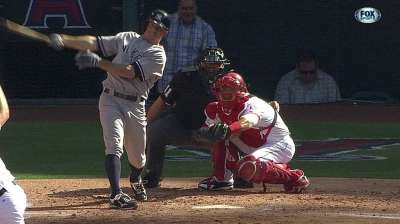 ANAHEIM -- Yankees manager Joe Girardi comes to the ballpark every day with the belief that his offense is going to break out of its funk.
While Girardi held that belief entering Saturday's contest, he will have to wait at least one more day for it to come to fruition as the Yankees lost, 6-2, to the Angels at Angel Stadium.
Not only did the Yankees lose their fifth straight game -- tying their longest losing streak of the season -- but cleanup hitter and first baseman Mark Teixeira left the game in the middle of the fourth inning with an aggravated right wrist.
Teixeira will not be with the team for the series finale on Sunday as he is heading to New York to be evaluated by team physician Christopher Ahmad.
"I think he just doesn't feel that he has the whip he normally has hitting left-handed," Girardi said.
The switch-hitter is batting just .151 this season, but his loss would be tough on a lineup already missing Francisco Cervelli, Curtis Granderson, Derek Jeter, Alex Rodriguez and Kevin Youkilis.
"You're taking a switch-hitter out of the middle of your lineup," Girardi said. "That's hard to lose."
While the Yankees are certainly not playing with their best lineup, they are not depleted of talent.
"There's no doubt they're banged up, but if you look at what we talked about, they're pitching well, they're holding leads, and when you do that, you're still going to be able to compete and contend and they're doing that," Angels manager Mike Scioscia said. "They're doing a terrific job of that. They're a tough club."
The Yankees scored a pair of runs in the third inning when three straight batters collected two-out hits.
Chris Stewart started the rally with a single, Brett Gardner drove him in with a triple off the right-field wall and Jayson Nix's RBI single gave the Yankees a 2-1 lead.
However, the Yankees were unable to sustain any momentum and squandered opportunities late in the game, something that has become an all too common theme on the West Coast trip.
"It seems like we've had a few of those on this road trip," Girardi said. "Tomorrow's a new day, we've got to find a way to win a game."
Ichiro Suzuki led off the seventh with a bunt single, stole second and third, but with a runner on third and none out, the Yankees -- 4-for-24 with runners in scoring over the past four games -- were unable to tie the game.
After Hanson fanned Thomas Neal, left-handed reliever Scott Downs was brought in to face Reid Brignac, who struck out. Then right-hander Michael Kohn came in and fanned Stewart.
"They got hits with guys on, we didn't," Stewart said. "That's the bottom line."
Right-hander David Phelps allowed four runs in six-plus innings, which Girardi called "pretty good." However, Phelps struggled against Erick Aybar and was not pleased with his performance.
"That's one of the worst jobs I've done all year managing a baseball game," Phelps said. "Didn't pitch well today."
The Angels shortstop gave the Angels a 1-0 lead with a home run to right field -- the first home run allowed by Phelps in his last 34 1/3 innings of work -- in the second. Aybar also gave the Angels a 3-2 lead with an RBI single in the sixth and finished 2-for-4.
"They gave me a lead and I gave it right back," Phelps said. "Had a chance to go out in the seventh, threw two pitches and gave up a hit. That's not going to get it done."
After Phelps gave up a single to Peter Bourjos to lead off the seventh, Shawn Kelley came in, but four of the first five batters he faced reached base as the Angels padded their lead with a couple of runs.
While the Yankees wait to hear word on the severity of Teixeira's injury, they have one game left of their 10-game road trip and hope to use it as a springboard to something positive.
"The whole season you're going to go through highs and lows, we're in a low right now, but we're going to turn it around. I have not doubt in that," Phelps said. "I have faith in all the guys that we are going to go out and get the job done tomorrow."
William Boor is an associate reporter for MLB.com. This story was not subject to the approval of Major League Baseball or its clubs.