Blanco's grand debut lifts Mariners past A's
Blanco's grand debut lifts Mariners past A's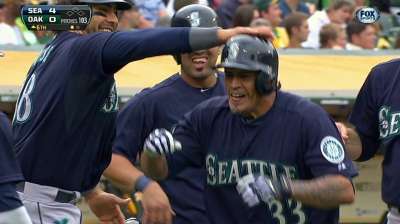 OAKLAND -- The Mariners didn't sign Henry Blanco for his bat. Nor did they bring him in for his play behind the plate.
Seattle reached out to the 41-year-old journeyman to serve as a mentor to rookie catcher Mike Zunino and bring wisdom to the team gained through 16 years of Major League experience.
He came to be a figure on the bench. His contributions would mostly come in the clubhouse, not through production on the field.
Yet it was Blanco, playing in his first game as a Mariner after meeting the team in Oakland one day ago, who shined brightest Saturday in Seattle's 4-0 win against the A's.
Seattle's backup catcher broke a scoreless tie in the sixth inning with a grand slam that was more than enough for Felix Hernandez to improve to 8-4 after dealing his fourth scoreless outing of the season.
Blanco even played a part in keeping the A's off the board when he tagged out Oakland's Jed Lowrie at the plate to save a vital run -- a momentum changing play that prompted an impassioned fist pump from Hernandez, a teammate of Blanco's from Team Venezuela in the World Baseball Classic.
He later jogged to the mound and put his arm around Hernandez's waist to say a few words to his two-day old teammate with runners on first and second and no outs in the seventh and Josh Donaldson at the plate. Hernandez struck out the A's All-Star candidate on the next pitch and forced a double play one batter later.
"We were on the same page," Hernandez said. "I just tried to make good pitches."
With Hernandez's performance, Seattle's starting pitchers have allowed two runs total in the last six games and have recorded quality starts in each of their last eight, including allowing one run or less in seven of those starts.
"You like it when they feed off each other like that, that's your most ideal situation," manager Eric Wedge said. "That's been something to watch these guys go out there and compete the way they've been competing."
Hernandez struck eight batters total and walked just one in seven innings of five-hit ball, and Oakland's A.J. Griffin kept pace with the Mariners' ace for much of the night.
He pitched five scoreless innings before serving up the pitch that allowed Blanco to become the oldest Mariner to ever hit a grand slam. It had been 13 years and 34 days since Blanco's last four-run shot, the fifth-longest gap in Major League history.
"It was one pitch today," Griffin said. "I was just trying to get weak contact, and Henry, I guess he was looking for a well-placed fastball and hit it and it went out."
"It was the perfect pitch to hit a grand slam on," said Blanco, who seized the title of oldest Mariner to hit a grand slam from left fielder Raul Ibanez.
Known primarily as a defensive specialist, Blanco appeared in 15 games for the Blue Jays this year before being released on Monday. The Mariners had targeted him prior to the season, but never completed the signing process. Wedge said the team was immediately interested upon his availability.
Blanco exhibited his leadership qualities through his handling of the bullpen in the ninth, as he helped Yoervis Medina pitch out of a jam.
The only damper on the night for the Mariners, save for a handful of missed opportunities with runners in scoring position early in the game, was the bullpen.
Charlie Furbush pitched a 1-2-3 eighth inning, but couldn't replicate it in the ninth, allowing a leadoff hit to Coco Crisp before being replaced by Medina.
Medina threw a wild pitch and walked the first batter he faced to put runners on first and second with no outs before Blanco paid a visit to Medina on the mound.
He responded by retiring the next three batters, including a key strikeout of Brandon Moss for the second out of the inning.
"Leadership is leadership," Wedge said. "It doesn't matter what the situation is or if you're playing or not playing or if you know somebody or don't know somebody. You do the right thing, for the right reasons. And that's for your teammate and your team. That's his M.O., and you saw it first-hand today."
There are multiple approaches a player can take to curry favor with new teammates, though few do it as lavishly as Blanco did on Saturday.
"You always want to make a good impression the first time out," Blanco said. "I wanted to be aggressive, and I did. I got him."
Jeff Kirshman is an associate reporter for MLB.com. This story was not subject to the approval of Major League Baseball or its clubs.