Gallardo stellar in six as Crew tosses first shutout
Gallardo stellar in six as Crew tosses first shutout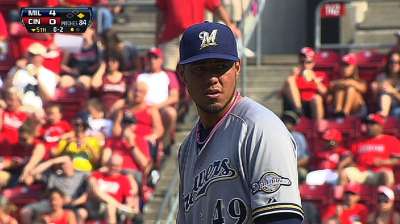 CINCINNATI -- The scouts sat behind home plate Saturday with their radar guns and their notebooks, charting Yovani Gallardo's second consecutive scoreless start. It is regular coverage for now, but if the Brewers' disastrous May pushes them to sell off pieces come July, you can bet that more scouts will come.
Gallardo put on a good show -- not as dazzling as his eight scoreless innings in Miami five days earlier, but good enough. He scattered three Reds singles in six shutout innings at Great American Ball Park, boosted by Logan Schafer's second straight three-hit game and Juan Francisco's three-RBI afternoon against his former team. The Brewers won a shutout for the first time all season, 6-0.
"It seems like things are falling together," Gallardo said.
He was referring to himself, but the same could be said for a Brewers team that snapped its five-game losing streak in Cincinnati and improved to 8-6 in June, a hot streak compared to a 6-22 May.
"It's unbelievable, and it stems from the pitching," said Schafer, who drove in two runs in his fifth straight start for the injured Ryan Braun. "It's been so great lately, and I think the entire team is feeding off it."
Even the hitters.
"Absolutely," Schafer said. "There's that team confidence. It's a good feeling."
Coming off his gem against the Marlins during which Gallardo became the third pitcher in Brewers history to reach 1,000 strikeouts, the right-hander limited the Reds to three singles and two walks in six scoreless innings before his pitch count (96) knocked him out.
Gallardo notched five more strikeouts and allowed only one runner past first base. That came in the second inning, when Todd Frazier reached first on a fielder's choice grounder and moved to second on Xavier Paul's single, before Gallardo retired Ryan Hanigan to end the threat.
Brewers pitchers have delivered six consecutive quality starts, including two apiece from Kyle Lohse and Gallardo.
"The last game [in Miami] was a little different than this game. He threw a lot of pitches early today," Brewers manager Ron Roenicke said. "But he's still putting up zeros. ... The guy makes big pitches when he needs to."
Gallardo's best inning was his last, a seven-pitch frame in which he retired Zack Cozart, Joey Votto and Brandon Phillips in order. Relievers Tom Gorzelanny, Donovan Hand and Jim Henderson combined to hand Cincinnati its first shutout loss at home since the Phillies blanked the Reds in back-to-back games on Aug. 30-31, 2011.
Gallardo has won three of his last four starts and his ERA is down to a season-low 4.41. He could be a hot commodity if the Brewers decide to be sellers at the July 31 non-waiver Trade Deadline, because he is in the fourth season of a five-year contract, signed for 2014 at $11.25 million, with a $13 million club option for 2015.
After enjoying full no-trade protection during the first three years of the deal, Gallardo now has more limited no-trade rights that cover 10 teams.
"Honestly, I don't even know all of them," Gallardo said. "I haven't really thought about it, but you always hear things floating around. I don't look into it too much. The only thing I can worry about is going out there every five days to perform."
He added: "Coming into the year, it's not something you want to think about."
Sixty-seven games in, the Brewers are 28-39 and in the National League Central cellar, 15 1/2 games behind the division-leading Cardinals.
"We'll see what happens," Gallardo said. "It's definitely a little bit different. It's the first time I've been in a situation like this -- not to say that anything is going to happen."
Offensively, the Brewers mostly took what they were given on Saturday. Two second-inning singles off Reds starter Homer Bailey turned into two runs because of a pair of wild pitches and Francisco's sac fly, and Francisco added two more runs in the fifth with a pop-fly home run that struck the left-field foul pole at the Reds' cozy home.
Cincy won the night before on a similar wall-scraping homer by Jay Bruce.
"It was kind of a tough one to swallow," said Bailey, who allowed six runs in seven innings and fell to 1-6 with a 6.00 ERA in 12 career starts against Milwaukee. "It's not like we walked a bunch of people or they were banging them off the walls. We had a Great American home run again, which, what do you do? It looks like it's going foul. It was up in the air for 20 minutes, and it gets out by two feet. That's just the ballpark we play in."
It was Francisco's first home run since the Brewers acquired him in a trade with the Braves, and his second homer this season at Great American Ball Park (he hit his first career grand slam here May 8). It also gave Francisco the distinction of hitting the second-longest home run in the park's history (a 502-footer in 2011) and one of the shortest.
Schafer had three hits for the second straight day, including a two-run double in the sixth inning that extended the Brewers' lead to 6-0.
"Good day offensively when you get six runs and eight hits," Roenicke said. "It shows that when the opportunity is there, unlike some of the other games, we did what we needed to do."
It made for an enjoyable afternoon for the visitors.
"Six-nothing -- we don't have many of those," Roenicke said. "We're usually one run. It's nice to be able to kind of relax."
Adam McCalvy is a reporter for MLB.com. Read his blog, Brew Beat, and follow him on Twitter at @AdamMcCalvy. This story was not subject to the approval of Major League Baseball or its clubs.