Potential starter Wood has brush with adversity
Potential starter Wood has brush with adversity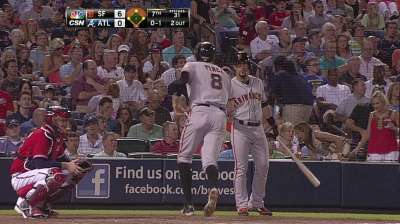 ATLANTA -- An off-day Thursday doomed Braves reliever Alex Wood to his most challenging appearance as a Major Leaguer in the seventh inning of Friday's 6-0 loss to the Giants. The rookie left-hander surrendered two earned runs and three walks after walking just one hitter in his first five big league appearances.
"I don't particularly walk people ever, much less three in a single inning, so it was definitely really out of the order to me," Wood said. "I feel like it never fails -- if we get rained out or have an off-day the day before I throw, I'm never quite as sharp. That definitely won't be happening again. I'm one of those people that has to come out and throw every day. It's just one of those things."
Wood gave up an RBI double to Buster Posey and walked three of the first five batters he faced in the seventh. Then with the bases loaded, he was called for a balk that brought Hunter Pence home from third as the final San Francisco run.
"I can't remember the last time I actually balked in a game, so it might as well have been in my fifth Major League appearance," Wood said. "I don't even think I balked in college. It might have had to be in high school, maybe."
Wood was more frustrated by the uncharacteristic walks and looked back on the balk as nothing more than a casual misstep. Wood said that his cleat stuck into the ground as he was coming into his set position, causing the brief pause that caught the umpire's eye.
"I'm sure any time they see a new guy out there, too, they're a little harder on the new guys than on [Paul Maholm] or [Tim Hudson]," Wood said. "It's just one of the things where you just got to put it in the past and move on."
Despite his rocky outing, Wood may have moved closer to returning to his natural role as a starter Friday with the news that Brandon Beachy would be scratched from his expected return from Tommy John elbow reconstruction surgery during next Tuesday's doubleheader against the Mets.
While the Braves have not specifically named any potential replacements for Beachy and won't until after the San Francisco series, Wood would appear to be one of the less complicated candidates to get the start in Beachy's place. Wood spent his entire amateur and Minor League career as a starter before he was called up May 30 to help restock a depleted Braves bullpen.
"It's obviously a little different where it's been a couple weeks now since I started, but it's one of those things where it's probably easier for me to go out there and start than it is for me to go back-to-back days and stuff like that at this point because I'm starting to get used to it," Wood said.
The Braves will make a decision on who will start Tuesday's doubleheader against New York along with Maholm after Sunday night's game.
"For a long guy, you can still probably get three or four innings, five innings out of him if we had to," manager Fredi Gonzalez said of Wood. "I'm kind of open. We're seeing how we get through these next couple of days and see how our options are."
Eric Single is a reporter for MLB.com. This story was not subject to the approval of Major League Baseball or its clubs.