Vogelsong slated to get two pins removed
Vogelsong slated to get two pins removed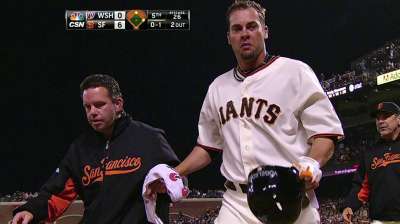 ATLANTA -- Right-hander Ryan Vogelsong's recovery from his fractured right pinkie could accelerate Tuesday, when he expects removal of two of the five pins holding his hand together.
"I'm hoping the other ones aren't far off," said Vogelsong, who was injured May 20 when he was hit by a pitch from Washington's Craig Stammen.
Vogelsong, San Francisco's No. 5 starter, was examined earlier in the week when the team was in Pittsburgh. Doctors found that the pins kept the structure of Vogelsong's finger properly aligned, as was intended.
"Everything looks good," he said.
Once all the pins are removed, Vogelsong can begin working toward a throwing program. He's expected to be sidelined until late July or August.
Chris Haft is a reporter for MLB.com. This story was not subject to the approval of Major League Baseball or its clubs.