Scutaro tries out finger with batting practice
Scutaro tries out finger with batting practice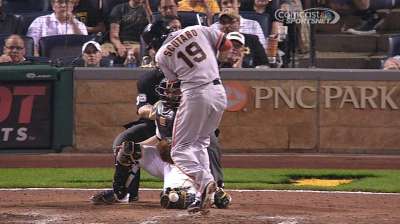 ATLANTA -- Giants second baseman Marco Scutaro tested his injured left pinkie by taking batting practice before Saturday's game against the Atlanta Braves.
Asked afterward how he felt, Scutaro flattened a palm and wiggled it in the universal sign meaning "more or less" or "so-so."
Scutaro, San Francisco's leading hitter with a .332 average, didn't back off when he was in the cage. He hit several line drives, including one off the right-field wall.
Scutaro, who hasn't played since he was hit on his left hand by a pitch from Pittsburgh's Tony Watson last Tuesday, wore a removable flap to protect his finger while he hit. He's expected to be fitted for a customized orthotic device in San Francisco next week.
Chris Haft is a reporter for MLB.com. This story was not subject to the approval of Major League Baseball or its clubs.