Rollins starts Saturday, but hip still an issue
Rollins starts Saturday, but hip still an issue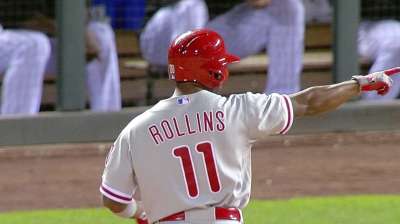 DENVER -- Jimmy Rollins was back in the starting lineup for the Phillies Saturday after coming off the bench in Friday's series opener with a sore right hip.
Rollins was able to pinch-hit Friday night in the seventh inning, despite manager Charlie Manuel's desire to stay away from him and let him rest his hip. Rollins responded with an RBI single to center, driving home what proved to be the game-winner in an 8-7 victory.
"We're trying to win the game," Manuel said of his decision to go to Rollins. "My philosophy is when you're behind in the game, you got to catch up to win it."
Rollins went 0-for-3 and came out of Saturday's game as part of a double-switch in the bottom of the fifth. He acknowledged his hip remains an issue.
"I didn't have to do too much running today, unfortunately, so it didn't bother me," Rollins said. " I didn't stretch out. It feels better from Thursday. That's why I took yesterday off, to let that progression happen. I got [assistant athletic trainer] Ichiro [Kitano] to dig in it, so it was a little sore today from him working on it. It's not something I'm going to go out there tomorrow and say, 'it's not around.' It's going to be there, but nothing to really hinder the way I play, necessarily."
Owen Perkins is a contributor to MLB.com. This story was not subject to the approval of Major League Baseball or its clubs.