Buchholz scratched from start, could land on DL
Buchholz scratched from start, could land on DL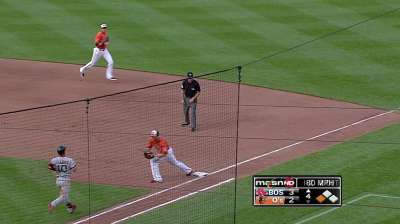 BALTIMORE -- Clay Buchholz won't be starting either game of Tuesday's doubleheader, and the right-hander could be headed to the disabled list.
Manager John Farrell said that Buchholz is still battling problems in his trapezius muscle. There's been some improvement, but he isn't ready to pitch in a game.
"Clay threw today and feels a little bit better than he did yesterday," Farrell said, "but not to the point where he's going to throw a bullpen [session] tomorrow. We do have the benefit of the off-day [Monday] where we can keep guys on turn with Felix [Doubront] going on Tuesday, [Ryan] Dempster on Wednesday and stay on turn from there. Right now, we haven't announced the other starter for Tuesday."
After Boston's 5-4 win Saturday, Buchholz said he's getting better every day but is trying to be careful.
"That's why I told them. There's no need to schedule anything [like a bullpen session]," he said. "Whenever I feel I'm ready to get off the mound, I'm going to get off the mound."
The right-hander said now it's just about the trapezius muscle and not the AC joint. Buchholz said he wants to avoid the DL, but if that happens, the Red Sox could make it retroactive to June 9 and limit his stay there.
"From the beginning, I really wasn't worried about it being something that was going to take a really long time, but it's definitely going to take longer than I want it to take," he said. "I'm trying to be as smart as I can with it and keeping everyone in the loop with how it feels, the progression each day, and that's where we're at right now. I'm making progress every day. There's no reason to take a step backwards if I don't have to."
If Buchholz doesn't improve by Tuesday, the Red Sox will need to decide on a possible roster move, said Farrell.
If so, then Boston will need a starter for later in the week against Detroit.
"So we've got a couple of moving parts right now," Farrell said.
As for now, the Sox need to find another starter for Tuesday's twin bill vs. the Rays. It appears that Rubby De La Rosa and Alfredo Aceves are the two main choices for that contest.
Part of that decision is going to be affected by De La Rosa's workload. He was called up Friday and hasn't pitched since throwing five innings for Triple-A Pawtucket on June 8.
Jeff Seidel is a contributor to MLB.com. This story was not subject to the approval of Major League Baseball or its clubs.