Four Orioles on pace to start in All-Star Game
Four Orioles on pace to start in All-Star Game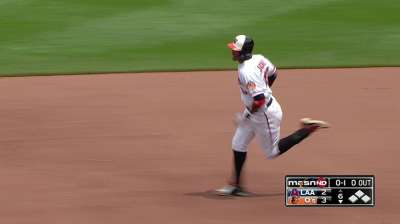 BALTIMORE -- The Orioles have a strong presence in the All-Star balloting, leading in three of the American League categories and ranking second in two, with right fielder Nick Markakis also moving up to third in the AL outfield when the third balloting update for the 84th All-Star Game were released on Saturday night.
Baltimore, which had three All-Stars last season, was well-represented on the ballot at nearly every position. Shortstop J.J. Hardy remains ahead of Texas' Elvis Andrus, while first baseman Chris Davis and outfielder Adam Jones are also top vote-getters at their positions.
Hardy, who has come on offensively after a slow start, has 1,871,010 votes, with Andrus getting 1,358,412. Jones stayed just ahead of Angels outfielder Mike Trout (2,710,115), garnering 2,740,505 votes, and the two-time All-Star would join Hall of Famer Frank Robinson, Ken Singleton and current vice president of baseball operations Brady Anderson as the only fan-elected Orioles outfielders in All-Star history.
Markakis, seeking his first All-Star selection, moved ahead of the Tigers' Torii Hunter, 1,463,392 to 1,425,571, and Nate McLouth stayed at seventh.
Davis, who leads the Majors with 22 home runs, is vying to become the first Orioles first baseman to earn a starting nomination for the AL team since Eddie Murray in 1985. Davis has 2,999,094 votes and is currently ahead of Tigers slugger Prince Fielder.
Catcher Matt Wieters -- seeking his third consecutive All-Star appearance -- remained at second, trailing Minnesota's Joe Mauer, 2,127,175 to 1,615,625.
O's third baseman Manny Machado trails Tigers third baseman and reigning Triple Crown winner Miguel Cabrera, who has 3,277,890 votes. The 20-year-old Machado, in his first full season, has 1,626,209 votes.
Fans can cast their votes for starters at MLB.com and all 30 club sites -- online or via a mobile device -- using the 2013 All-Star Game MLB.com Ballot until Thursday, July 4, at 11:59 p.m. ET.
Fans may submit 25 online ballots during the voting period but can also earn a one-time bonus of 10 additional online ballots. To access these additional online ballots, fans must be logged into an MLB.com account when submitting any online ballot. To obtain an MLB.com account, visit www.mlb.com and register in accordance with the enrollment instructions for a free MLB.com account.
The Orioles have also launched a ballpark "Vote Orange Rewards Program" to encourage fans to vote while at Camden Yards to make sure the team is well-represented in the Midsummer Classic. Fans who complete as few as 50 paper ballots and submit them by the sixth inning will be eligible to win an autographed photo at each home game and have their name displayed on the center-field video board as the "Voter of the Game."
Rewards for higher vote totals include buttons, t-shirts, autographed baseballs, a catered suite and an on-field batting practice visit. The top voter during the seven-week program will have the opportunity for a meet and greet with one of the Orioles' 2013 All-Stars.
Fans can also once again participate in the Home Run Derby Fan Poll. Fans will have the opportunity to select three players in each league whom they would most like to see participate in the Home Run Derby. The 2013 Home Run Derby -- part of Gatorade All-Star Workout Day -- will be broadcast live on ESPN, ESPN HD, ESPN Deportes and ESPN Radio in the United States beginning at 8 p.m. ET on Monday, July 15.
Though originally scheduled for July 7, the 2013 rosters will now be unveiled Saturday, July 6, at 6:30 p.m. ET on the 2013 MLB All-Star Game Selection Show presented by Taco Bell. The show will be televised nationally on FOX.
From Saturday, July 6 to Thursday, July 11, be sure to return to MLB.com and cast your 2013 All-Star Game Final Vote Sponsored by freecreditscore.com for the final player for each League's All-Star roster.
And the voting doesn't end there. The final phase of All-Star Game voting will again have fans participating in the official voting for the Ted Williams All-Star Game Most Valuable Player Award presented by Chevrolet. During the Midsummer Classic, fans will vote exclusively online at MLB.com via the 2013 All-Star Game MLB.com MVP Vote, and their voice will represent 20 percent of the official vote determining the recipient of the Arch Ward Trophy.
The 2013 All-Star Game will be played at Citi Field on Tuesday, July 16. MLB.com will have extensive online coverage of the All-Star Week festivities.
The 84th All-Star Game will be televised nationally by FOX Sports, in Canada by Rogers Sportsnet and RDS, and worldwide by partners in more than 200 countries via MLB International's independent feed. ESPN Radio and ESPN Radio Deportes will provide national radio coverage of the All-Star Game. MLB Network and SiriusXM also will also provide comprehensive All-Star Week coverage. For more information, please visit allstargame.com.
AMERICAN LEAGUE ALL-STAR VOTING
(as of June 15)
FIRST BASE
Chris Davis, Orioles 2,999,094
Prince Fielder, Tigers 1,980,129
Mike Napoli, Red Sox 744,334
Albert Pujols, Angels 693,062
Mitch Moreland, Rangers 645,071
SECOND BASE
Robinson Cano, Yankees 2,409,512
Dustin Pedroia, Red Sox 1,635,674
Ian Kinsler, Rangers 1,123,654
Omar Infante, Tigers 872,142
Jose Altuve, Astros 734,896
SHORTSTOP
J.J. Hardy, Orioles 1,871,010
Elvis Andrus, Rangers 1,358,412
Jhonny Peralta, Tigers 1,322,791
Jed Lowrie, Athletics 1,019,861
Derek Jeter, Yankees 669,698
THIRD BASE
Miguel Cabrera, Tigers 3,277,890
Manny Machado, Orioles 1,626,209
Adrian Beltre, Rangers 1,105,706
Evan Longoria, Rays 898,422
Josh Donaldson, J. Athletics 500,773
CATCHER
Joe Mauer, Twins 2,127,175
Matt Wieters, Orioles 1,615,625
A.J. Pierzynski, Rangers 885,137
Carlos Santana, Indians 864,779
Jarrod Saltalamacchia, Red Sox 748,725
DESIGNATED HITTER
David Ortiz, Red Sox 2,488,451
Lance Berkman, Rangers 1,239,521
Edwin Encarnacion, Blue Jays 769,322
Mark Reynolds, Indians 745,058
Mark Trumbo, Angels 722,667
OUTFIELD
Adam Jones, Orioles 2,740,505
Mike Trout, Angels 2,710,115
Nick Markakis, Orioles 1,463,392
Torii Hunter, Tigers 1,425,571
Jose Bautista, Blue Jays 1,379,251
Nelson Cruz, Rangers 1,310,079
Nate McLouth, Orioles 1,300,158
Alex Gordon, Royals 1,040,685
Jacoby Ellsbury, Red Sox 1,004,434
Yoenis Cespedes, Athletics 926,611
Coco Crisp, Athletics 869,153
Josh Hamilton, Angels 726,485
Austin Jackson, Tigers 712,623
Shane Victorino, Red Sox 682,220
Ichiro Suzuki, Yankees 620,734
Brittany Ghiroli is a reporter for MLB.com. Read her blog, Britt's Bird Watch, and follow her on Twitter @britt_ghiroli. This story was not subject to the approval of Major League Baseball or its clubs.