Braun hoping for minimum DL stint
Braun hoping for minimum DL stint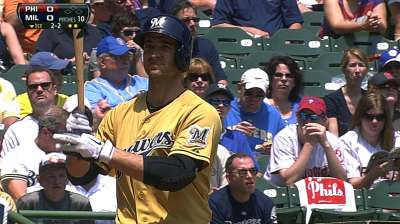 CINCINNATI -- Brewers left fielder Ryan Braun was hopeful Saturday that his first career stint on the disabled list would be up after the minimum 15 days.
The team finally placed Braun on the DL on Friday night with a right hand injury that has bothered him for about a month. The move was backdated to June 10, so he will be eligible to return to the lineup beginning June 25 against the Cubs.
"That's my hope, but I don't want to get too far ahead of myself," Braun said. "If I'm able to come off [after] 15 days, that's only eight more games. It sounds like a long time when you say, '15-day DL,' but it's not that long from now."
Braun has received treatment throughout his career for occasional back and groin tightness, and this season he has also battled a sore neck. But before Friday night, he had never landed on the disabled list in a Major League career that began in May 2007.
The Brewers replaced him on the active roster with left-handed-hitting outfielder Caleb Gindl.
"I took a lot of pride in having never spent a day on the DL," Braun said. "But at this point all I can do is look forward and try to do everything I can to get back as quickly as possible.
"I've dealt with little things before, and I've always tried to play through everything. But this just got to the point where I had played through it for a prolonged period of time and hadn't seen any progress. I think everyone was on the same page [about going to the DL] and taking the time to get it back to at least close to being healthy."
Placing Braun on the DL, manager Ron Roenicke said, "gives him a shot to get this thing right. He can go out there and play, but we know we're not going to have the guy we're used to having. Maybe when he comes off the DL, I'm hoping it will go away. But if it doesn't, then he will have to go out there and try to play with it, fight through it."
Adam McCalvy is a reporter for MLB.com. Read his blog, Brew Beat, and follow him on Twitter at @AdamMcCalvy. This story was not subject to the approval of Major League Baseball or its clubs.