Reds celebrate Vander Meer on anniversary of his feat
Reds celebrate Vander Meer on anniversary of his feat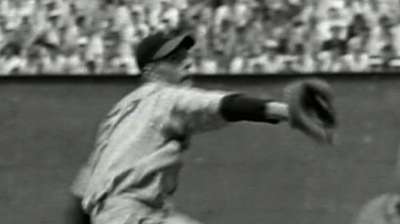 CINCINNATI -- It was only fitting that Homer Bailey -- the only active Red to throw a no-hitter -- took the hill to start Saturday's game against the Brewers. That's because Saturday was the 75th anniversary of former Red Johnny Vander Meer's second consecutive no-hitter, making him the only pitcher to ever do so.
On June 11, 1938, Vander Meer no-hit Boston in front of a light crowd at Crosley Field. Five days later against the Brooklyn Dodgers, Vander Meer pulled off one of the most impressive feats in Major League history by throwing his second consecutive no-hitter, this time with 38,748 in attendance for the first ever night game at Ebbets Field.
The Reds took Saturday as an opportunity to celebrate Vander Meer's historic accomplishment. Along with recognizing Bailey before the game against the Brewers, Jim Maloney and Tom Browning were on hand at the Reds Hall of Fame and Museum to take pictures and meet fans. Maloney is the only other pitcher to throw two no-hitters in a Cincinnati uniform, while Browning has the only perfect game in Reds history. The two were also introduced before the game.
The Reds Hall of Fame and Museum opened up an exhibit with Vander Meer items collected from the National Baseball Hall of Fame and the Reds Museum itself. Finally, all fans attending Saturday's game received a free commemorative print to honor Vander Meer and the anniversary of his back-to-back no-hitters.
Jeremy Warnemuende is an associate reporter for MLB.com. This story was not subject to the approval of Major League Baseball or its clubs.