Opposite-field homer good sign for slugging Davis
Opposite-field homer good sign for slugging Davis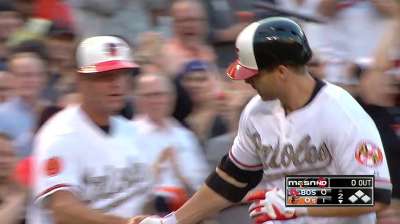 BALTIMORE -- Chris Davis is leading the league in home runs after he hit his 22nd Friday night. He's also the leader in slugging percentage and on-base plus slugging. Last season, the first baseman didn't hit his 22nd home run until Aug. 25.
Some have wondered if Davis will be able to sustain this pace, which has him on track for 135 RBIs and 52 home runs. He may or may not be able to maintain that level of production, but his home run to left-center field Friday -- hit the opposite way -- was a good sign for the Orioles.
"Yeah, it was definitely good to stay through one the other way," Davis said. "I felt like the last couple weeks I was really pulling off pitches and coming around the baseball."
Some teams have shifted him as an extreme pull hitter lately. The second baseman at times stands in short right field and the shortstop plays on the second-base side of the bag.
So getting hits the other way has been important for Davis' on-base percentage and also his power numbers. He hits the majority of his home runs to center field and right field, but he has shown the ability to drive the ball out to left field a handful of times this year, too.
"I think Chris knows he doesn't have to get into pull mode to be effective," manager Buck Showalter said. "That's been good for him."
Friday's home run off Ryan Dempster could be a good sign for the Orioles if it means Davis is staying through the ball and has fully emerged from his mini-slump, in which he was 0-for-16 for a stretch.
"Something I worked on a couple days ago, trying to get back to really driving the ball and hitting it where it's pitched, so it was nice to hit that one [Friday]," Davis said.
Derek Wetmore is an associate reporter for MLB.com. This story was not subject to the approval of Major League Baseball or its clubs.