Machado not paying attention to red-hot hitting streak
Machado not paying attention to red-hot hitting streak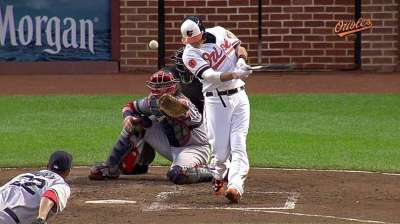 BALTIMORE -- Manny Machado had three more hits Friday night, including two doubles, which padded his lead in both categories. The third baseman leads the Majors in doubles (30) and hits (95), and he has found success lately hitting the ball to the opposite field.
The 20-year-old is riding a 12-game hitting streak and he's the fourth player since 1969 to have two hitting streaks of 11 games or more before turning 21.
However, Machado said he tries to avoid looking at the leaderboard so he can focus on the task at hand.
"I just try to avoid it," Machado said. "I just go out there and play my game. How I've been doing it is you just go out there and just play. You forget about everything else and help this team try to win, and that's what we've been doing, having fun here and playing."
He's been adept at keeping his hands inside the ball and driving balls to right field when pitchers throw on the outside part of the plate.
"He's tough to defend," manager Buck Showalter said. "When people try to play guys where he's going to hit -- he's tough to pitch to, he's tough to defend.
Machado recently has advanced runners by hitting behind them. So with a runner on second base, he can hit it to the right side of the infield to move him up, or as Showalter prefers, hit it to the outfield to drive in the run. Early in the season, Machado might bunt in that situation, but he hasn't done that recently.
"It's just the situation of the game. We're trying to get that runner over," Machado said. "Especially with no outs, you're trying to get that guy to third base so [Nick Markakis] or Adam [Jones] or whoever's behind me that day is going to have to drive them in. So it just depends on the situation how I'm going to approach it. And basically just stick to your guns, which is your routine."
Showalter said that in the tunnel after at-bats where Machado was unsuccessful, the manager doesn't see the reaction of a typical 20-year-old.
"He's got a lot of maturity about him," Showalter said. "A lot of guys try to get big when things get a little challenging. He gets shorter, which is really good".
Derek Wetmore is an associate reporter for MLB.com. This story was not subject to the approval of Major League Baseball or its clubs.