Two big swings carry Blue Jays, Dickey to road win
Two big swings carry Blue Jays, Dickey to road win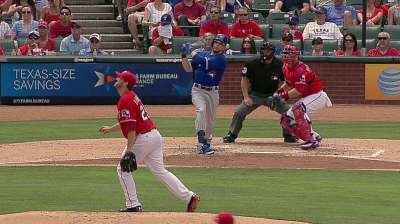 ARLINGTON -- R.A. Dickey certainly wasn't at his best on Saturday afternoon, but he battled. And with the way the Blue Jays have been playing lately, that's all they really needed.
Dickey experienced an increase in velocity, but his knuckleball didn't have its typical movement. That would normally lead to a disastrous outing, but Dickey found a way to continuously pitch out of trouble while his offense took care of the rest.
Adam Lind and Colby Rasmus homered and Dickey allowed just one run over 5 2/3 innings in the Blue Jays' 6-1 victory over Texas at the Rangers Ballpark in Arlington.
"I was able to make some bigger pitches with bases loaded and runners in scoring position to manage the outing enough to win," Dickey said. "At the end of the year, you take out your four best and your four worst, it's the other 22 starts in the middle that are really who you are, and you have to try to win games like this when your team gives you a lead."
Dickey was provided with that lead early in the game when Lind lined a two-run shot off the foul pole in right field during the first inning. The homer came on a 1-2 pitch from right-hander Josh Lindblom and was part of a two-hit afternoon for Toronto's first baseman.
Rasmus increased the lead to four in the fourth inning when he skied one to right field on a 3-2 pitch. It was his second homer in as many games against the Rangers and his 12th of the year, which gave Toronto more than enough breathing room the rest of the way.
The Blue Jays added two more runs in the ninth, as Josh Thole slapped an opposite-field RBI single and Emilio Bonifacio brought home a run on an error by third baseman Adrian Beltre.
The high run total came despite the fact that the Blue Jays failed to record at least 10 hits for just the third time in their past seven games. They had eight hits on Saturday, but in part because of the homers, it was more than enough to get the job done.
The biggest positive is that the club hasn't been forced to rely solely on the heart of the order to get the job done every night.
"To have a good year, everybody has to be contributing," Blue Jays manager John Gibbons said. "Now our pitching is starting to come together as well, and you have to ride that and play good baseball."
Dickey was handed an early lead during his last start as well, but he was unable to hang on. He ended up matching a season high with seven earned runs en route to a 10-6 loss to the White Sox, but he didn't experience a similar setback in Texas.
The 38-year-old was far from perfect, but he found a way to continuously pitch out of jams to keep his team in front. He recorded just one three-up, three-down inning and had multiple baserunners on during the fourth and fifth innings, but he limited the overall damage.
Dickey didn't reach the end of his rope until the sixth inning after he loaded the bases and allowed Nelson Cruz to score on a fielder's choice. That put runners on the corners with two outs, and Gibbons opted to make a move for the bullpen.
He appeared visibly upset with the decision and wanted to stay out and finish the sixth. But Gibbons brought in right-hander Neil Wagner, and he was the one who got the club out of the jam on a flyball to center field. Afterwards, Dickey downplayed the incident and said it wasn't a big deal.
"I wasn't anticipating it, that's for sure," said Dickey, who allowed seven hits and three walks. "I felt like I could have handled the situation, but Gibby's the manager and when he feels like there's a matchup he needs to take advantage of, that needs to be the way of it."
The Blue Jays have now matched their season high with a four-game winning streak. It's also the first time this year the club has won four consecutive games on the road.
The recent turnaround has been in large part because the pitching staff is finally starting to put it all together. Despite injuries to Brandon Morrow and J.A. Happ, the pitchers have posted a 2.31 ERA over their past 11 games en route to an 8-3 team mark over that same span.
Toronto now finds itself back to within five games of .500 for the first time since late April, while also closing the gap in the Wild Card race to 6 1/2 games.
"They've done a heck of a job," Gibbons said. "Early in the season, we struggled with the consistency of our starting rotation. We struggled in other areas too, but they're all starting to come together now. You can see it all starting to come together."
Gregor Chisholm is a reporter for MLB.com. Read his blog, North of the Border, and follow him on Twitter @gregorMLB. This story was not subject to the approval of Major League Baseball or its clubs.