Rangers can't cash in on run-scoring chances vs. Jays
Rangers can't cash in on run-scoring chances vs. Jays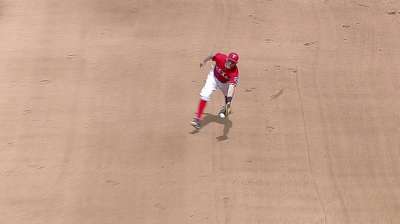 ARLINGTON -- The Rangers have reached the halfway point in June with no end in sight to their offensive woes.
The Rangers had another dismal day at the plate on Saturday afternoon, and their losing streak reached five with a 6-1 loss to the Blue Jays at the Ballpark in Arlington. The Rangers have also lost 10 of their last 14. That includes five of six to the Blue Jays, who are in last place in the American League East.
There is very little about the Rangers right now that resembles the team that went to the postseason in each of the past three seasons, but their problems scoring runs are the most glaring. In 14 games in June, the Rangers are hitting .220 with a .360 slugging percentage and 37 runs scored.
"We need to start having fun," outfielder David Murphy said. "I think that's a lot easier said than done, because winning is a precursor to fun. I think we need to have a short memory right now. If we lose, shake it off, come back the next day and have some fun. There are plenty of great characteristics that come with this team and the way this team has played in past years, and a lot of that has been absent in the last week or so."
The Rangers managed eight singles and a double against Blue Jays starter R.A. Dickey and three relievers, but they were 1-for-12 with runners in scoring position. The Rangers were down four runs in the sixth when they scored their only run and snapped their 21-inning scoreless streak.
"It's just simple baseball," manager Ron Washington said. "We need to get some base hits with runners in scoring position. We just haven't been able to do that. It's not one part of the lineup, it's up and down the lineup.
"It's just a matter of time. I wish it was today, but it just didn't happen."
The Rangers did get Ian Kinsler in the lineup for the first time since May 17. He was activated off the disabled list before the game, but he was 0-for-4 with a walk.
"We put together some good at-bats, but they just beat us today," Kinsler said. "No other way around it, they just played better than us. We're pretty good. We just got to keep grinding. If we continue to play and continue to have a sound approach offensively, we're going to score runs. We've done it before. This isn't a season-long drought."
Rangers starter Josh Lindblom didn't pitch too badly, holding the Blue Jays to five hits in six innings. He did not walk a batter and struck out two over 87 pitches. What ruined his afternoon were a pair of two-run home runs. Adam Lind gave the Blue Jays an immediate lead with a two-run homer in the first and Colby Rasmus made it 4-0 with a two-run shot in the fourth.
"With Lind, he threw a breaking ball and wanted to bury it, but didn't get it down enough," Washington said. "On the other one, he tried to throw a changeup down and away and left it in the middle of the plate. Between that, he executed well. Those two pitches, that's been the Achilles' heel of our pitching staff lately. One or two pitches cost us and our offense hasn't been able to get a run in when the opportunities are out there."
The four-run lead proved insurmountable for the Rangers, given the current state of their offense. Saturday marked the 11th time in 14 games this month they have scored three or fewer runs in a game.
"What the offense does has zero bearing on us as pitchers," Lindblom said. "Our job is to execute pitches and compete."
Dickey breezed through the Rangers lineup for the first three innings, allowing only a walk and an infield single. He ran into trouble in each of the next three innings, allowing eight of 16 baserunners to reach base. But with the help of reliever Neil Wagner, Dickey allowed only one run.
"This is a game when I didn't have my best knuckleball," Dickey said. "I had a good enough one to survive the outing, but not much more. On a different day it might have been different, but today I was just trying to survive it."
The Rangers had the bases loaded with two out in the fourth but Dickey struck out Chris McGuiness on three pitches. In the fifth, Leonys Martin led off with a single and Kinsler walked. But Dickey struck out Elvis Andrus, retired Lance Berkman on a grounder to first and Adrian Beltre on a fly to right to keep the Rangers from scoring.
In the sixth, the Rangers loaded the bases on three straight singles by Nelson Cruz, Murphy and McGuiness. The single by McGuiness -- a hard line drive to right that forced Cruz to stop at third -- didn't bring home a run, but snapped a collective 0-for-11 streak for the Rangers with runners in scoring position. The Rangers got one run when Martin grounded into a force play, but Kinsler popped out against Wagner to end the inning.
"By law of odds, you're going to score every once in a while," Berkman said. "It's really hard to shut a team out in the big leagues. I felt like we're still struggling in that area. We're not playing well in many phases of the game right now, and consequently we're not winning many games."
T.R. Sullivan is a reporter for MLB.com. Read his blog, Postcards from Elysian Fields, and follow him on Twitter @Sullivan_Ranger. This story was not subject to the approval of Major League Baseball or its clubs.