Phils go south after Pettibone's rough first inning
Phils go south after Pettibone's rough first inning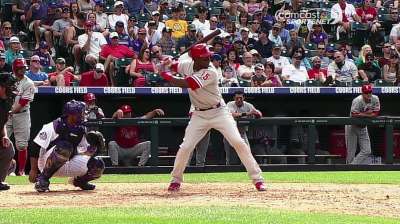 DENVER -- When a team is on the wrong end of a 10-5 blowout, there's no sole explanation to point to and lay blame, but when the Phillies fell to the Rockies Saturday, the solution may have been found in four simple words: Don't forget to breathe.
When visiting teams come to Coors Field, the veterans and coaches can set the tone. For the Phillies, the buck stops with skipper Charlie Manuel, a veteran of three managerial seasons at nearby Colorado Springs -- the Rockies' Triple-A affiliate -- where he cultivated anecdotal evidence ranging from the speed of batted balls to the difficulty drawing a breath on the basepaths.
"When visiting teams would come and play us, we could win the first two games before they got straightened out," Manuel said. "The more you played, the more you got used to it. It's faster. The ball gets in the outfield quicker. Things like that."
The Phillies and Rockies both scored in bunches as they combined for 15 runs on 26 hits and three errors, reviving any dormant myths of high-scoring affairs in the Mile High City.
"This is a weird park," Phillies shortstop Jimmy Rollins said. "We've played some strange games here. We've been up by 10 and lose by one. We've been down by five, win by one. We've had rain, tarp incidents, 29 degrees in the playoffs."
Much of the story of Saturday's loss was told by the end of the first inning. The Phillies jumped on Tyler Chatwood quickly with back-to-back singles to center and third from Ben Revere and Michael Young. Young's infield single plated Revere, who had stolen second and advanced to third on catcher Wilin Rosario's throwing error.
Ryan Howard then doubled to left, but the rally was cut short in its tracks by a throw from Carlos Gonzalez to catch Young at the plate.
"I'd like to see him make it," Manuel said of Young's out at the plate. "The third-base coach was right for sending him. Sometimes out here when you have to run and you're not used to it, your breathing gets to you. It catches up to you."
Catching their breath was the least of the Phillies' problems after Colorado upped the ante in the bottom of the inning, striking for six straight one-out hits. Jordan Pacheco sparked the rally with a single to third and came home on Gonzalez' double to left. Michael Cuddyer drove Gonzalez home with a single to right, and Rosario followed with a triple to right-center.
"The big thing was bearing down with two out," starting pitcher Jonathan Pettibone said. "But I didn't really get to two outs that first inning. It just kept escalating from the start."
The Rockies piled on when Tyler Colvin drove a 2-0 pitch emphatically into the left-field seats for a two-run shot. Nolan Arenado made it six straight hits with a single to center and DJ LeMahieu grounded into a fielder's choice to temporarily stop the hit parade. Chatwood legged out an infield single that found him on third after a throwing error by catcher Humberto Quintero, scoring LeMahieu to cap the rally at six runs.
"Even when I threw to second, the ball didn't do anything," Quintero said, bemoaning the altitude's effect on his throws. "The ball moves up, but it never goes down. Everything is up."
Pettibone alone shifted the blame onto his own shoulders. The 22-year-old rookie right-hander was chased after three innings, giving up seven runs on 10 hits and a walk.
"I don't think it was a big enough difference to notice anything," Pettibone said, dismissing the altitude's effect on the movement of his pitches. "The ball was moving right to left, or left to right. It wasn't affecting the ball being elevated. I ran into trouble by not getting below the knees."
The Rockies were relentless, putting six straight men on base with two outs in the fourth off reliever Jeremy Horst. Rosario launched his third extra-base hit of the game -- a double to right-center -- to bring home a run and Colvin and Arenado connected on a pair of singles to bring home another.
"Things kind of snowballed," Manuel said. "We got a little sloppy. We give them outs, and you can't do that, especially in this ballpark. They'll burn you."
The Rockies ended up tallying 10 runs in the game's first four innings, then found themselves blanked in the remaining four, despite putting traffic on base in every inning.
The Phillies didn't make it easy on Chatwood, touching him for two runs on seven hits and three walks in five innings. They put another run on the board in the second, but the inning got significantly smaller when Arenado made a jaw-dropping play, charging in on the grass to protect against the bunt. Pettibone tried to hack one down the third-base line, and Arenado leapt and dove after it, snaring the ball, a hit, and a run, landing flat on his front, pivoting on the ground and rifling a throw from a prone position, one-hopping it to Pacheco at first to complete the play.
"I kind of went too far in and the ball was just hit to my left," Arenado said. "I was able to make a dive and it was just reaction. I got the ball and I was from an angle, I just tried to get it out of my hand as quickly as I can, and luckily he made a good scoop."
Philadelphia closed the gap to five in the eighth inning, with pinch-hitter Laynce Nix stealing a double to first off Pacheco's mitt. Howard drove him home with a double to right, then scored on John Mayberry's two-run homer to left-center.
"We got behind and couldn't catch up, couldn't pull off the same thing we did last night," Manuel said, referencing their comeback from a five-run deficit in Friday's series opener. "They kept adding on. They got too far ahead of us."
Owen Perkins is a contributor to MLB.com. This story was not subject to the approval of Major League Baseball or its clubs.