Cobb's injury tempers Rays' win over Royals
Cobb's injury tempers Rays' win over Royals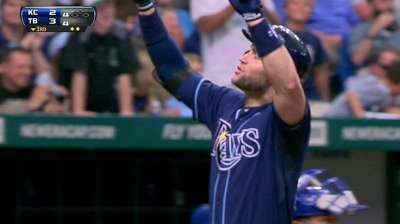 ST. PETERSBURG -- Saturday's 5-3 win over the Royals could have been a chance for the Rays to enjoy a moment where, finally, everything clicked at the same time. They pitched well, hit three homers to power their offense and played their usual brand of solid defense.
But Tampa Bay's first win since Tuesday was marred by a scary head injury sustained by starter Alex Cobb, who was struck on the right ear by a line drive in the top of the fifth inning, rolled off the field on a stretcher and taken to Bayfront Medical Center, where he was in good spirits but remained overnight after being diagnosed with a mild concussion.
The Rays' most reliable starter this season, Cobb had pitched fairly well to that point, allowing two runs over 4 1/3 innings. With only 78 pitches thrown, he might have gone deeper into the game and delivered another win had Eric Hosmer's line drive not slammed into his head at 102.4 mph, a scary moment that silenced Tropicana Field.
But the Rays, understandably emotional in the moments Cobb spent facedown on the mound and throughout the rest of the game, pressed on.
"That's really tough to do. Such a heart-wrenching and terrible thing to happen on a baseball field and something that you just never wish upon anybody," said right fielder Matt Joyce, who hit his fourth homer in his last six games. "At the same time, you have to finish the game. The only thing you can do is pray, pray that he's OK, and pray for a speedy recovery."
Alex Torres replaced Cobb and struck out four over 1 2/3 perfect innings. He hasn't allowed a run in 16 innings, the second-longest scoreless streak to start a season by a reliever in club history. So far this season, Torres has given up three hits and three walks while striking out 23.
"I just came out when I knew I'm the guy that's going to pitch in the game. I was coming out to try to pick up Alex Cobb in the game and just do [it] for him," Torres said. "After that, I'm just focused on throwing the ball around the strike zone and making outs."
Torres' dominant performance was followed by Jake McGee, Joel Peralta and Fernando Rodney as Tampa Bay's bullpen delivered 4 2/3 strong innings in relief of Cobb.
"Alex Torres was ridiculously good again," Rays manager Joe Maddon said. "They were all good."
And the Rays' hitters did their part as well. Their lineup was designed from the beginning to be more contact-oriented, avoiding the high strikeout numbers that plagued them in the past, and there was no better proof of that than on Saturday. For the first time since July 15, 2007, the Rays didn't strike out once all game.
They got right to work in the first, scoring a quick run on Evan Longoria's sacrifice fly to right field. Cobb gave up two runs in the second on a bases-loaded walk and a sacrifice fly, but the Rays regained a one-run lead in the third inning on a two-run homer by Scott, his first round-tripper since May 19.
Scott was bumped up to the third spot in the order after starting this series 3-for-3 at the plate. After Saturday night, he's 5-for-6 with a homer and a double after going 4-for-37 over his first 10 games this month. Scott has been putting in extra work with hitting coach Derek Shelton and watching video of himself from 2010, and he believed all that is starting to pay off.
"That was a nice comeback for him today," Maddon said. "We needed that today. We needed that lift from him, and he provided it."
Tampa Bay's offense didn't falter after Cobb's injury, either. Instead, Joyce and Longoria continued to follow each other up the Rays' home run leaderboard, with Joyce crushing a solo homer to right in the fifth and Longoria blasting a solo shot to left in the sixth. Both have 14 jacks on the year, tied for the team lead.
"I told him, 'You can just let me lead just for a little bit,'" Joyce said. "That would be nice."
All three of the Rays' home runs came against Royals starter Jeremy Guthrie, who leads the Majors with 19 homers allowed this year.
"His pitches weren't horrible," Royals manager Ned Yost said. "I think he was struggling with his command a little bit, but the balls that left the yard were definitely the ones that hurt him."
Added Maddon: "We hit homers today. We normally play pretty good when we hit homers."
Adam Berry is a reporter for MLB.com. Follow him on Twitter at @adamdberry. This story was not subject to the approval of Major League Baseball or its clubs.