Royals stung by Rays' homers on tough day
Royals stung by Rays' homers on tough day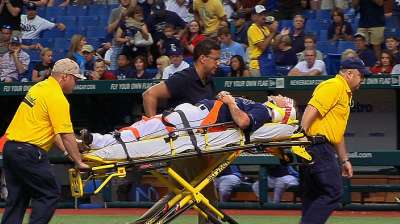 ST. PETERSBURG -- The red-hot Royals were cooled off by Tampa Bay on Saturday but the Rays' 5-3 victory was just an afterthought in the minds of the participants when it was over.
Concern focused on the welfare of Rays starting pitcher Alex Cobb, who was struck in the right ear by a line drive and was carted off the field on a stretcher during the fifth inning.
"It was an awful moment," Rays manager Joe Maddon said.
Preliminary reports were that Cobb sustained a mild concussion and other test results were good.
The crowd of 18,593 was shocked into silence when Cobb was struck on the right side of his head by a line drive off the bat of the Royals' Eric Hosmer. The ball hit with such force that it rebounded off Cobb to catcher Jose Lobaton, who threw out Hosmer at first base and rushed to aid his pitcher.
"It's a crazy feeling," Rays first baseman James Loney said. "I saw the blood coming out. It's just one of those things where you're hoping and praying."
While players knelt and stood quietly nearby, Cobb was examined by medical personnel for several minutes on the field and taken off on a stretcher, immobilized with his hands folded. The Rays reported he remained conscious the entire time and was taken to Bayfront Medical Center, where he'll remain overnight for observation.
"I think overall it kind of deflated the entire stadium," said the Royals' Elliot Johnson, who was Cobb's teammate last year with the Rays. "It deflated the benches because there wasn't a lot of talk going on. I mean, what is there to say? Things get real, real quick, if that makes any sense. The game isn't as important as his life, his livelihood and his future. So, hopefully he's OK."
That, at least, was the preliminary report.
It was the second case of a pitcher being struck in the head on the Tropicana Field mound this year. On May 7, the Blue Jays' J.A. Happ was hit by Desmond Jennings' shot and sustained a skull fracture. Happ remains on the disabled list.
This time, Hosmer was the batter and he was shocked as Cobb went down on the mound.
"I don't like being a part of that stuff. I know all the guys in here and in there are praying for him," Hosmer said. "We know he'll be all right and I'm just hoping that, if not the next start, that he can be back in a good amount of time and be all right."
Manager Ned Yost was among the stunned witnesses in the Royals' dugout.
"You can't hit a ball harder than Hoz hit that ball. He hit it so hard [Cobb] couldn't even react and just makes everybody in the stadium sick to their stomach when something like that happens," Yost said.
Johnson could tell the blinding speed of the ball by Cobb's reaction which was hardly any reaction at all.
"Honestly, he's probably the best pitcher when it comes to comebackers [balls hit directly to the pitcher] so you had to know that ball was just scorched," Johnson said. "Because, he is the Greg Maddux of 1996 or whatever. I've said that to him many times before, but for him to take a ball off the head like that is as scary as it gets. And you saw Hoz's reaction; he didn't even run to first. He's like, 'Oh, no!'"
Yost noted that Royals pitcher James Shields, another ex-Rays pitcher, immediately went to be with Cobb under the stands.
"Shields went over and checked on him as soon as they took him off the field and he said he was talking and was responsive and he felt like he was going to be OK, and I think that made us all feel better at that point," Yost said.
Rays pitcher David Price was among those giving a positive report on Cobb after seeing him at the medical center.
"He was laughing at the hospital," Price said. "And they said he was talking when he rolled over out there on the mound so that's always a good sign. ... At the hospital, he was laughing at the nurse's jokes and all the nicknames that they gave him. He was coherent."
Jeremy Guthrie, the Royals' losing pitcher, was concerned.
"It's something that you never want to see. We've seen it a couple times this year and we just hope that he's healthy and strong and recovers quickly," Guthrie said.
For his part on Saturday, Guthrie gave up a first-inning run and then three homers that dealt him his fourth loss against seven wins.
Luke Scott hit a two-run blast to right field in the third inning. Matt Joyce's solo shot to right in the fifth inning gave the Rays their fourth run. That snapped the Royals' streak of 13 games in which they held the opposition to three runs or fewer, a franchise record.
"It was a remarkable one," Yost said. "We'll see if we can't start another one tomorrow."
Evan Longoria led off the Rays' sixth with a home run to left for a 5-2 lead. The homers were the 14th each for Joyce and Longoria.
The Royals got two runs off Cobb in the second inning. They loaded the bases on singles by Mike Moustakas and Johnson and a walk to Alcides Escobar. Alex Gordon also walked to force in one run and Hosmer's sacrifice fly scored the other.
Salvador Perez belted the first pitch thrown by the Rays' fourth pitcher, ex-Royal Joel Peralta, in the eighth inning to cut the deficit to two runs.
The loss was just the second for the Royals in their last 11 games. Their three-game streak was ended as was the Rays' three-game skid.
In the aftermath, however, thoughts were on the Rays' fallen pitcher.
"Hoz is shaken up, the whole team was," Shields said. "I don't care if we're trying to beat him up on the field, you never want to see that happen."
Dick Kaegel is a reporter for MLB.com. This story was not subject to the approval of Major League Baseball or its clubs.